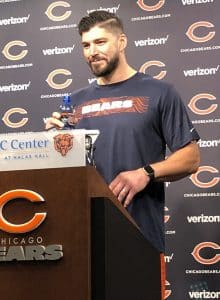 Eight months ago, Chicago Bears tight end Zach Miller was getting carted off the turf of the Mercedez-Benz Superdome with a dislocated kneecap. He was rushed to a nearby hospital where he underwent emergency surgery to repair severe damage to his arteries, with the possibility of his leg being amputated very much on the table.
On Tuesday, a smiling Miller stood before a crowded media room at Halas Hall as a newly re-signed member of the Chicago Bears. The team signed him to a one-year contract on Monday, with a salary of $450,000 if he is unable to play and $790,000 if he can.
"It's tough for me to put it into words, what it means to me, but I'm very thankful and just grateful to be apart of this family," said Miller on Tuesday.
The move by the Bears will remind fans of the team's response to the injury that ended Johnny Knox's career in 2011. Knox could have been cut from the Bears for minimum salary cap damage, but the team elected to keep him under contract for the 2012 season. Miller, as Knox did, will continue to have access to the Bears' training staff and will be around his teammates for another year, continuing to act as the veteran presence he has been since joining the team. With a team as young as the Bears, a team also working to develop a second-round tight end, Miller's presence will go a long way in the team's growth and chemistry.
"Anyway I can help… the guys in the tight end room and, really, our football team, that's just going to be my role for the year," he said. He later commented on the importance of being around his teammates, saying, "This could be very different… I could be away, kind of removed from what I've been used to for a very long time. Not having that brotherhood, not having people see me every day… that matters. I think that adds to that positivity, that adds to my happiness."
The gesture by the Bears clearly meant a lot to Miller, as it would for most players. So often in the NFL are players cast aside after injuries to save a couple bucks, but the Bears went out of their way to bring Miller back. Miller said he does not think most teams would do what the Bears did, and was sure to express his gratitude.
"[What they did] is a testament to the entire organization and the McCaskey family. The NFL is a big business. It's a little different here… this thing really is a family," he said. Before Miller took the podium, defensive lineman Akiem Hicks told the media, "I am happy that I'm a part of an organization that will take care of its players. That's what it said to me, that they're willing to make sure we're alright… It's loyalty. That's what it showed me."
Miller was drafted out of Nebraska in the sixth round of the 2009 NFL Draft by the Jacksonville Jaguars. He joined the Bears in 2014 at the age of 30 and became a big part of the offense in 2015 when he had 439 receiving yards and caught five touchdowns in ten games played. Injuries have plagued his career, but none of them compare to the one he suffered on that fateful Sunday afternoon in New Orleans. He has undergone nine surgeries since his injury, and only recently has he regained use of his foot. Logic would state that a 33-year-old tight end in Miller's position would be ready to "hang 'em up." But Zach Miller isn't quite ready to walk away from the game he's played for so much of his life.
"For me, I'm not putting any limits…  Really with my doctors, everybody I've spoke to, it's 'we're not going to put any set limitations on this.' It's kind of take it as it goes. There has not been a definitive 'you can never do this again.'"
Matt Nagy's message since arriving in Chicago is to be obsessed with football, and Miller's determination embodies what that means. Even though he can't participate in practice, he will still be there for the team. Miller's determination to make his team better in any way he can shows what it means to be obsessed with football, and the precedent he has set is what an ascending team, like the Bears, needs.
Twitter: @crbevins11
Hear audio from Zach Miller