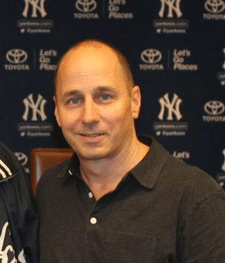 Yankees  GM Brian Cashman spoke to the mostly New York media following the trade deadline.  The AL East first place failed to make any more deals beyond the acquisition of Mariners utility player Dustin Ackley for for Ramon Flores and Jose Ramirez on Thursday.
"We stayed engaged with all clubs to come up with a match that would improve our club" stated club General Manager Cashman, "but was unable to get anything done."
Regarding deals that didn't happen, Cashman noted, "I can't speak to any specific names of players, rest assured.  There were a lot of manes that I talked to, a lot of teams,  some names that are public, some that aren't public, some that are obviously very high profile, some that are low profile, some that are buried on people's farms systems.  We just could not find a match."
"I like the team we have, we had some recent trouble, but were trying to fortify. We will be relying on our farm system as we've done all year," he added.
Cashman emphasized the team was "staying the course," highlighting that the farm system was strong and the team would be relying on their veterans and youth.
He went on to say that the team would be bringing up pitcher Luis Sevarino, and he would be making his next start in the big leagues.
Listen to the entire conference call.
Podcast: Play in new window | Download