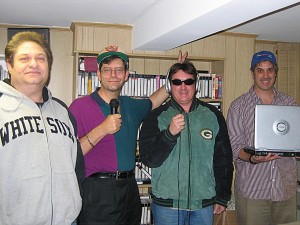 For those football fans who just can't get enough of the pigskin during the off-season, we are here to your rescue with one of the most inane, stupid, and juvenile programs ever to grace the radio or the Internet.
Despite being panned by the critics, loathed by program directors, and the bane of football executives everywhere, the Bears-Packers Showdown, and it's successor, the Pro Football Showdown developed a cult following of passionate, yet semi-literate football fans all over the world.  Otherwise, how does one explain how the show managed to survive for fifteen years.
So get ready, because we apologize for what you are about to hear as we give you the very worst of the Bears-Packers Showdown!
This show goes back to mid-December 2007, when the Bears were the defending NFC Champs and going nowhere.  The Packers were having a resurgent year, and about to cream the St. Louis Rams.  The Bears face an upcoming game against the rival Vikings.
Former cast member Steve Kohn makes a rare appearance, and as usual has a barrage of jokes for Packer Dave.  Len Ackerman baits Dave and Les Grobstein tries to keep the peace.
Cameos from Dick Vitale and Jeff Foxworthy.
[ti_audio media="3154″]