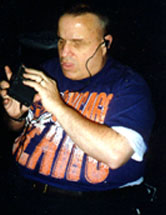 In memory of our late friend Bob Greenberg, we present a vintage episode of the Bears-Packers Showdown.  We refrain from calling it classic, because there was nothing classic about this show.  It represents everything that can and will go wrong during a radio broadcast.  Bad audio levels, mistimed sound effects, and the participants talking all over each other.  In addition, insults being hurled, accusations of alcohol abuse and other crimes and misdemeanors.
Yet despite all that, this program remains a cult favorite.
We go back to October of 2002, on the heels of a 34-21 victory by Green Bay over the Bears in Champaign, IL (during the reconstruction of Soldier Field.)  Brett Favre went 22-33 for 359 yards passing and three 3 TD's with no interceptions.
Hear from Favre and head coaches Mike Sherman and Dick Jauron, plus cameos from Bob Uecker, Chris Berman, and Dick Vitale. Also Packer Dave breaks out the guitar for two hilarious songs.
We are not responsible if you lose bladder control during the transmission of this program. Enjoy.
[ti_audio media="4892″]
Audio link for tablets/smartphones
Podcast: Play in new window | Download