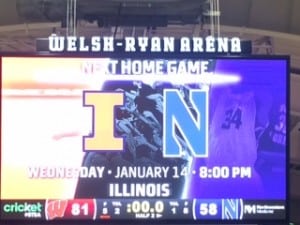 It was a series of 'last time events' during Northwestern's Big Ten home-opener against Wisconsin, Sunday night in Evanston, Illinois.
The most notable, it was the last time that Chicagoland star and Wisconsin senior forward Frank Kaminsky would be playing at Welsh-Ryan Arena. The Lisle native and Benet Academy graduate, lead his team to a 29 – 1 record his senior year with the help of current NU guard Dave Sobolewski.
Kaminsky had an efficient game, scoring 16 points in 24 minutes of play, as his team established an early lead and never looked back. Kaminsky dished out 6 assist and pulled down 10 rebounds, which gave him his 7th double-double of the season to lead the Big Ten. The Cats are looking forward to not having to deal with the 7 footer in the future, as he will go into the NBA draft after this season.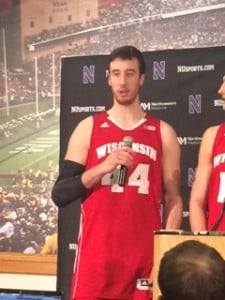 The offensive star of the game was Badgers forward Sam Dekker, who was 4 – 6 from the 3 point line and added a couple of dunks. Dekker finished with 16 points and was the main reason Wisconsin had a 43 – 21 lead going into the half.
NU came in 1 – 0 in Big Ten action after their victory over Rutgers last Tuesday but that might be the last time this year the Cats will have a winning record during conference play.
The Cats next 5 opponents will be difficult matchups with trips to Michigan State, Michigan and Maryland… there will be no rest for the weary as NU gets in to the teeth of their season. Coach Collins team is relatively young so gaining experience in these conference games will boost McIntosh, Law and Lumpkin's confidence going into next year.
Speaking of Coach Collins… It will be the last time his coaching record will be over .500. Collins came into tonight's game with a 24 – 23 record and with the loss it will bring it exactly at 24 – 24. Collins knew that it was going to take a while for him to build a winning program but Cats fans should be excited with what he has done in 1+ seasons.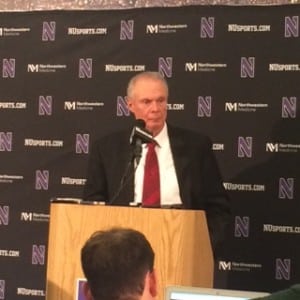 "I saw a lot of men on their team… understand guys it's a process… they're a developmental program… they develop guys, they work, they get better and you see a finished product. Kaminsky wasn't like that as a freshman," Coach Collins commented on the Badgers, "Let's put a couple years of experience and strength on McIntosh, Law and Lindsay and add some more piece and let's see where we are."
NU is emulating Bo Ryan's blue print for building a contending Big Ten basketball team as each school preaches defense and patient basketball while expecting their players to play smart on both ends of the court. The Cats are just lacking in the recruiting department and hope that Collins can bridge that gap in the upcoming years.
The Cats go on the road next week as they travel to East Lansing to take on Coach Izzo's Michigan State squad.
Coach Collins on future of Northwestern's program and Bo Ryan's success  
@WesEvans24
Podcast: Play in new window | Download