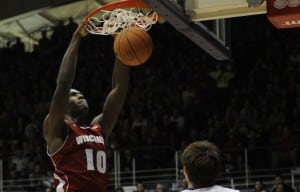 If the Northwestern bsketball team wanted a measure of their progress – they got one Thursday night, courtesy of the fourth ranked Wisconsin Badgers, who defeated the Wildcats 76-49. NU couldn't have been any colder than if they'd taken a pregame dip in chilly Lake Michigan. They couldn't hit water from the side of an aircraft carrier.
How bad were the Cats? The closest the game got was a 5-5 tie early on. At one point, Badger reserve Nigel Hayes out scored the entire NU team 13-12. They only manages two more points for a 40-14 halftime deficit. Even though the second half saw the two teams score about the same, the damage had been done.
Rookie coach Chris Collins has a lot of ground to cover. It's looking like a long and dismal season. His predecessor left the cupboard pretty bare, with the only standout players in purple being Drew Crawford.  Alex Olah managed 23 points on 10 for 14 shooting in the paint, when his teammates manged to feed him the ball inside.  16 of those points arrived in the second half, when the outcome was well in hand.
Wisconsin certainly did not look as sharp as other top rated teams such as Arizona, which faced a similarly inept conference opponent in its 60-25 shellacking of Washington State.
Worse yet, the Cats had numerous one and outs on the offensive end, yielding 29 defensive rebounds to the Badgers.  Wisconsin had four players in double figures, led by Hayes with 19, and Sam Dekker with 15.