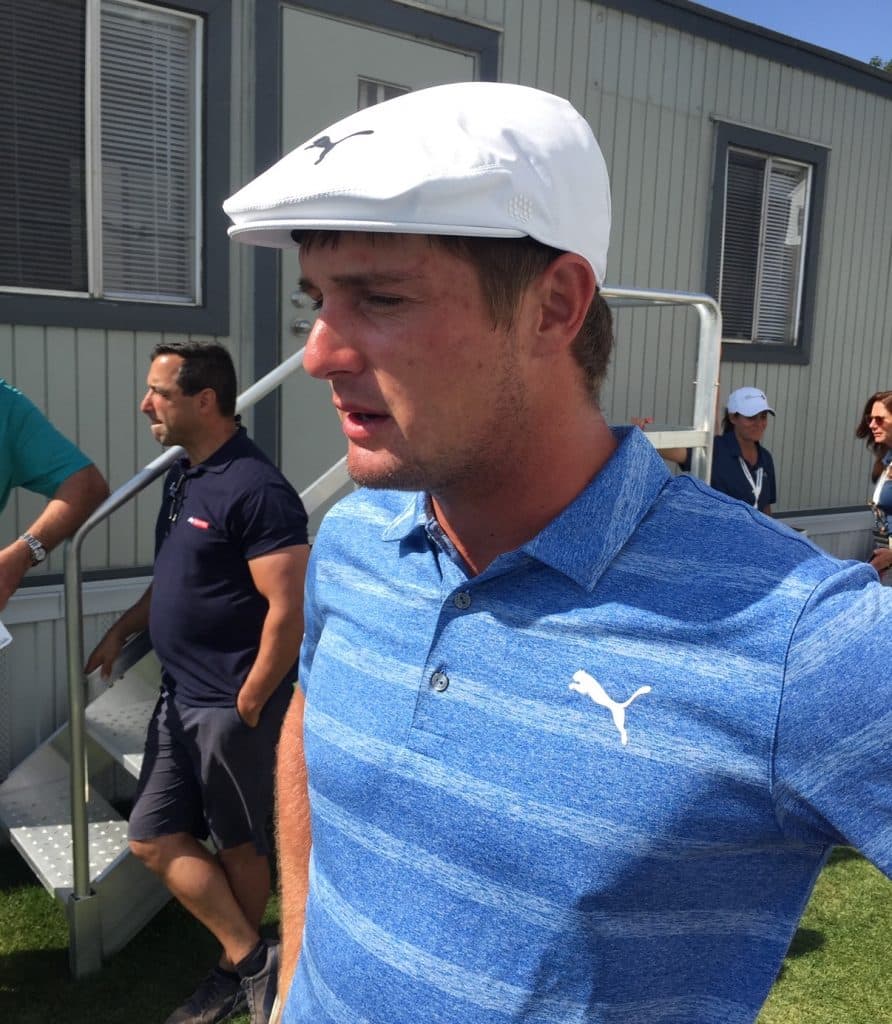 Pro golfer Bryson DeChambeau probably has as much in common with Bill Nye the Science Guy as he does with fellow golfer Bill Hass. He majored in Physics at Southern Methodist University, and thus takes a very scientific approach to the game of golf.
The most noticeable way DeChambeau has put his intellect to use, is by cutting all his irons to a uniform length. As he explains it, "it's to maintain the same body posture through every single shot. I can make them the same length and change the mass and the length of the head. It comes down to loft. At the end of the day, the pitching wedge is a lot shorter with a heavier head. We just lengthen it, taking the weight out of the head, to make it like a seven-iron. So they all play like seven-irons, just with different loft. All that means is that you're going to have a change in four-degree loft, which accounts for 12-13 yards, just like anybody else."
In 2015, DeChambeau told USGA Insider, "I don't want to say too much because I don't want to give out all my secrets, you know, but Epsom salts, they help me float a golf ball, and I'm actually able to find the center of gravity of a golf ball. Not every golf ball is perfectly manufactured, so there's going to be an error in the machine and the center of gravity will actually be off-center." He went on to tell them that about four of every dozen balls fails to meet his high standards.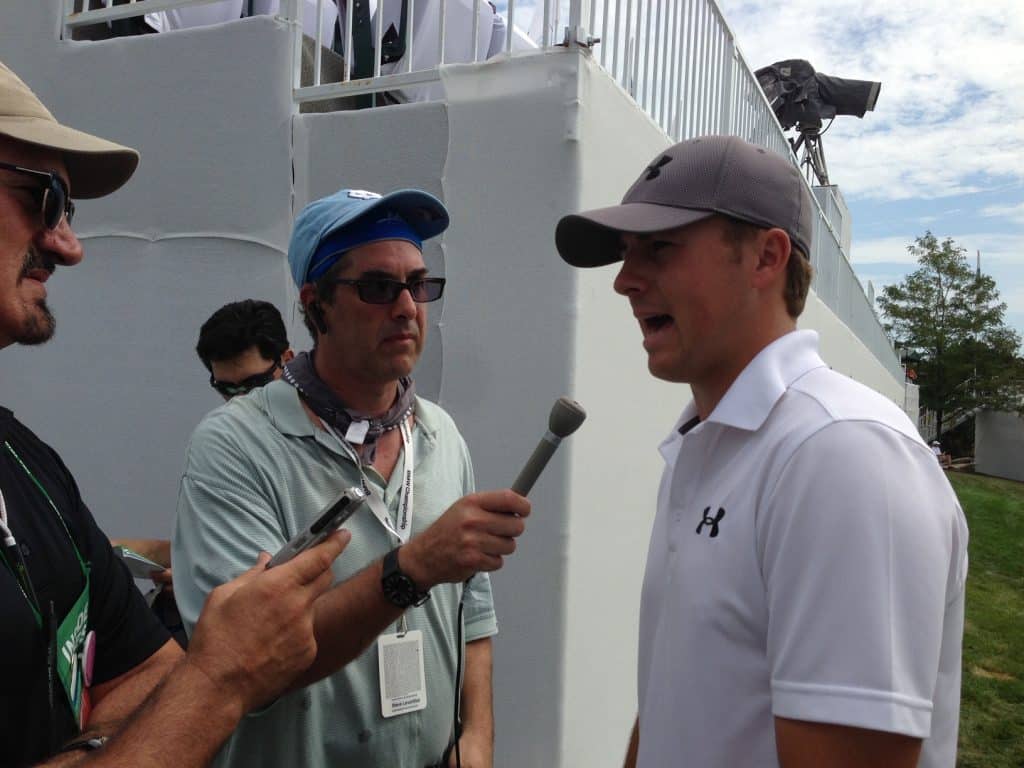 Back in 2013 at that year's Western Open, I asked my colleague Rory Spears from GolfersOnGolf.com, to give me the name of an up and coming golfer to interview. He glanced at his tee-time sheet, and pointed down the 18th fairway. He suggested I speak to a player two groups back. "This kid just won his first PGA tournament at Quad Cities, and he isn't even twenty years old. His name is Jordan Spieth." When Speith walked off the green, there was only one other reporter interested in speaking to him. Less than two years later, Speith went on to have a stellar season. Post match interviews are a mob scene.
Mindful of Spears' insight into the game, I posed the question once again in 2017 at Conway Farms, seeking lightning in a bottle once again. This time he mentioned two names, one of which was DeChambeau, who had coincidentally, also won the John Deere Classic for his first tour victory. Despite missing ten cuts in a row during the season, he bounced back to qualify for the BMW Championships. I caught up with him at the end of his second round of play, and snagged a one-on-one interview.
Speaking about the John Deere win, he said, "It's something special. All wins I've had have been really incredibly helpful, and pushing me to the next step, the next level in this game. It has already elevated my game."
I asked him about turning pro. "It's a whirlwind." He states, adding, "It's a lot harder than people think. I thought that having six months before I turned professional, and playing in professional events worldwide would help me. It did help a little. I did not know how much golf I'd be playing, and how tired my body would be. You have to be well rested to play for four days."
The California native is already a strapping six-foot one, and a muscular two hundred pounds. When on the course, he sports the ivy cap of fellow SMU alum, the late Payne Stewart, with whom he feels a kindred spirit.
It's not long before the discussion returns to college level science. "Hitting into greens," he notes with the same tone and demeanor he would address a graduate level lecture, "we have to understand the firmness value, so that based on the angle of descent, the spin rate, the wind characteristics and also the slope that I'm landing into, how far that ball is going to roll. It's in between four millimeters and point-seven millimeters, based on a correlating factor that we do before playing." Let that sink in.
All the science in the world still doesn't help over come the mental aspect that is so key to high level golf. DeChambeau went on to finish 33rd at the BMW in 2017. He would end the year ranked 99th in the world.
The following year, DeChambeau seems to have finally found his stride. In 2018 he recorded four tournament wins, a second place, a third, and three other top ten finishes, vaulting to fifth in the golf world rankings. His best finish in a major was tying for 25th place at the US Open.
As the 2019 season gets underway, all that is missing is that elusive major. Brush aside the Newtonian physics, and the analytical approach to the game. DeChambeau has what it takes. So can he go from being the smartest person in the room, to the best golfer in the room? We'll see.