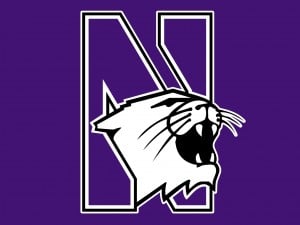 The Northwestern Wildcats, despite sitting key contributors for much of the second half, got a victory over in-state rival Illinois. The Cats now turn their attention to Indianapolis, where they will face Ohio State for the Big Ten Championship.
Illinois came to Evanston with nothing more than pride on the line. Their 4-7 record entering Saturday night's game guaranteed their six-year streak of losing seasons would extend to seven. Lovie Smith may be on his way out as the Illinois football program remains in flux.
Northwestern, who clinched the Big Ten West two weeks ago, had one last box to check on their two-game victory lap to the program's highest point under Pat Fitzgerald, the Big Ten Championship Game.
Northwestern took control early, feeding running back Isaiah Bowser, who peeled off a 55-yard run on his first carry of the game. A few plays later, Clayton Thorson found Bennett Skowronek in the end zone to take a quick lead. The run game would continue to flourish, as Isaiah Bowser rumbled all over the Illinois defense, taking 18 carries for 166 yards.
"Worked hard this week at practice, I think I showed that on the field," Bowser said. "Think I played pretty well when I was in there. Obviously got to get better and get ready for next week."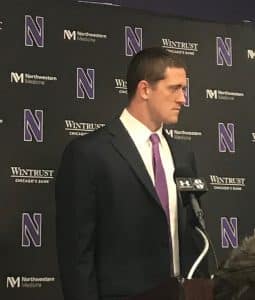 Thorson was efficient, completing 12 of his 18 passes for 110 yards and two touchdowns. The offense hummed along, but, presumably to avoid injury and fatigue heading into their showdown with Ohio State, coach Fitzgerald elected to sub out many of his starters in the second half.
"To win our rivalry game with the amount of guys we had out and what I did not allow our coordinators to do is awesome by our guys," Fitzgerald said. He added, "I felt like we could win with the personnel we had in the game."
"I thought they were great," Fitzgerald said of Bowser and Thorson's limited action. "I thought they were really efficient. I thought, you know, (Bowser) played behind his pads. I thought Clayton didn't force anything, took what the defense gave him. And you know, again, I'm just really proud of that whole group."
Illinois went into halftime down 21-6, but the absence of many of Northwestern's starters in the second half allowed them to creep back into the game. Bowser's day ended in the third quarter and Thorson came out in the fourth for T.J. Green. They played a conservative style of offense, with Fitzgerald admitting he reigned in the playcalling of his coordinators.
"We knew we'd see a heck of a battle by (Illinois)," Fitzgerald said. "And with the limited ability that I allowed our coordinators to have, I knew it would be a little bit closer game than people would think."
Illinois' trouble putting points on the board continued through the third quarter, but they began to chip away at the Northwestern lead in the fourth. Down 24-9 to begin the quarter, Illinois scored with 7:57 remaining to make it a one-score game. The Wildcats punted on their next drive which allowed the Illini to march down to the Northwestern 17. Paddy Fisher, however, saved the day with a game-sealing interception.
"They just ran an RPO play," Fisher said. The quarterback has the option to hand the ball off to the running back or throw it to a receiver in an RPO. "You know, they were hitting it on us all day on the dug routes and the bender routes and, you know, I just read the quarterback's eyes, he pulled it, and [I] got in the throwing lane."
Chicago's attention may be focused on the Bears right now, but about 15 miles North of Soldier Field is a football team that may win the Big Ten Conference. They face a daunting task in their championship opponent, Ohio State, who just boat-raced Michigan 62-39.
"We've got an unbelievable opportunity in front of us," Fitzgerald said. He added, "I'm fired up to take the purple down to Indy. You know that's the goal every year is to win the Big Ten West. We've finally gotten over that hump. And now we've got an opportunity obviously, a 60-minute opportunity, to take this team to the Rose Bowl."
Ohio State has known anything but losing. They feature a roster loaded with NFL-talent, starting with quarterback Dwayne Haskins Jr., who has shredded opposing defenses to the tune of 4,003 passing yards and 41 touchdown passes, both Big Ten single-season records. Their defense struggled at points this season, but seemed to put it together as of late, allowing less than 300 passing yards in five of their last six games.
"They're a great team obviously," Bowser said. "I mean they just beat a really good Michigan team that beat us. So, obviously, they're a great team. They played well today, as I'm hearing. So, we got to be ready for them.
Urban Meyer is no stranger to high-stakes games and will surely have his team prepared. Northwestern can catch them sleeping though, just as Purdue did, and officially dash Ohio State's playoff dreams and insert themselves into the Rose Bowl.
Follow on Twitter: @crbevins11 @radiomogul
Hear audio from Pat Fitzgerald, Clayton Thorson, Paddy Fisher and Isaiah Bowser: