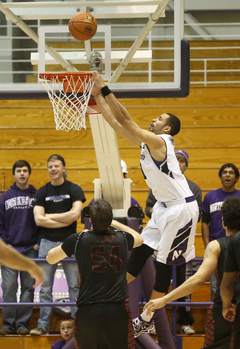 Alex Olah has not yet turned 21 years old, but he is on his way to Vegas to test his luck against some of the nations best competition. Alex was asked if he has ever been to Vegas, and while this will be his first trip to Sin City, he knows it will be all business.
"Its a business trip, we are just going to go there and try to win," Olah said after Monday's win, where he scored a career high 18 points and grabbed 6 rebounds.
Before heading to Vegas, Northwestern knocked off Gardner Webb (2-4) 72-59, improving their record to 4-2 on the year. Olah dominated the much smaller Gardner Webb team, scoring all of his points in the paint.
When asked about Olahs breakout game coach, Chris Collins seemed very pleased with the big man. "If he takes his time and backs it up you guys see he has great touch, he is really developing a nice little hook shot," Collins said.
Drew Crawford continued to look impressive Monday night. The fifth year senior added 15 points and 8 rebounds, but like Olah, Crawford knows this Vegas trip is not about gambling and partying. "Its like Alex said, this is a business trip," Crawford added after another solid game. He currently leads the Wildcats in scoring this season averaging 16 points a game.
The Wildcats will open the trip Thanksgiving night when they face a tough Missouri team, who coach Chris Collins admits he has not seen much of. "I haven't really watched Missouri yet, Ill get on that tonight," Collins admitted. "I know they have some really good players, they will be bigger than us and more athletic." Missouri also played Monday night improving to 5-0 on the season.
Friday night will not get any easier for Coach Collins and the Wildcats when they play UCLA at 10:30 pm.
The Vegas trip may be all business for Northwestern, but there will definitely be some fun moments as the young Wildcats will get to see exactly where they are as a team early in the season. "We are trying to win every game, it's not easy but it is fun." And while the competition will be tough, Collins assured us the Wildcats will be up for the challenge
Podcast: Play in new window | Download