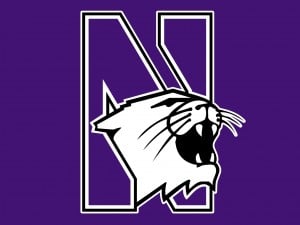 There is a very different feeling in the air at Northwestern.  Welsh-Ryan Arena used to be a place for visiting Big Ten teams to break losing streaks or get off the skids. Not anymore.  In three short years, Chris Collins has turned a program around that might finally end the school's NCAA drought.
The Wildcats followed up their first win in forty years at Columbus with a convincing 73-61 win over Nebraska, in which Vic Law had a twenty point effort, Bryant McIntosh had nine points and nine assists, and reserve Isiah Brown chipped in ten.  The big story for the Wildcats was, well, the big story, or rather  Dererk Pardon. The six-foot eight-inch center from Cleveland doesn't even average eight points a game, yet has saved some of his career best efforts for the Cornhuskers.  Last season he scored 28 in a late December game in Lincoln. This season he managed a "mere" thirteen in the return to Nebraska. On Thursday night he lit up the Husker defense for nineteen points and snagged 22 rebounds.  It overshadowed a 23 point effort by Nebraska guard Tai Webster.
The contest was close all night, with neither team holding a lead of greater than seven points, until Northwestern went on a 16-1 run with five minutes to play.
That was not the type of Wildcat team that seemed to play patsy for its conference opposition the past.
After the game Collins noted, "I always said from day one, we just had to win." Then he quoted Kevin Costner, "It's a field of dreams. If you build it they will come. "
"We just wanted to put a product on the floor, that people would be excited about following. Our guys play so hard, whether we make mistakes or look good at times. " He added, " [See] The effort my guys are giving? When we get to the locker after the game, we got nothing left. I'm so proud of that. They leave it on the floor every night, we're not going to look good all the time. We had stretches tonight where we didn't look great.
"But the fact now that The crowds becoming a factor is something I've envisioned when I came here, and I said that. And hopefully it'll continue to get better. We're gonna need it in order to be a factor in this league. You got to win at home, and a big part of that is the atmosphere."
Collins certainly knows that. His Wildcats host the Indiana Hoosiers on Sunday and Welsh-Ryan is sold out.
Nebraska coach Tim Miles stated, "It felt like when we'd get it to four, we'd miss a one and one, we charge on a layup, or miss a layup.  We felt like we played hard enough, but when you're coming from behind the margin of error is so slim. We missed so many inside shots. We had no transition points."
Reshirt sophomore Vic Law, who been there since day one of the Collins era summed it up, "This is a different Northwestern. Our goal is just to be different. We're coming into these games with the mindset of winning. We were really trying to learn what the Big Ten is and build our identity. Now we know what it takes to win, how to get stops. You have a lot more leadership and a stronger base to build off of, and the younger guys can come in and be impactful."
Law went on to say, "Previously you'd see a lot of the other team colors.  Now, he says "  It's all purple and it feels so good, because you can have a true home court advantage."
Northwestern is now 17-4, and 6-2 in the Big Ten.  Nebraska is 9-11 (3-5)
Hear post game comments (in order) from Nebraska coach Tim Miles, Northwestern coach Chris Collins, and NU player Vic Law.