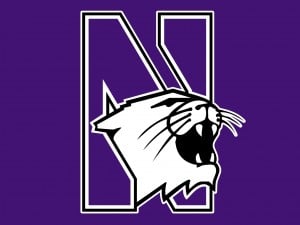 Northwestern found themselves in unfamiliar territory coming into Saturday's home matchup against Nebraska after winning four of their last five games in the Big Ten.
The Wildcats were actually favored to win for the first time all season in conference play when they hosted the Cornhuskers at Welsh Ryan Arena Saturday, and for a short time  it looked like they would pull off another win for first year head coach, Chris Collins.
JerShon Cobb led the Wildcats (12-12 5-6 Big Ten) with 7 points on 3-5 shooting in the first half, and Northwestern held Nebraska (12-10 4-6 Big Ten)  to 6-24 shooting (25%) to go into the break with a 22-16 lead over the Cornhuskers.
However, the second half was a different story as the Wildcats struggled to score, shooting just 9-25 from the floor and 5-15 from behind the three point line.
"It's hard for us to score; that's not new," coach Chris Collins said. "So when we do get good looks or go to the free throw line, we have to make those."
Nebraska forward, and star player, Walter Pitchford caught fire and scored 13 of his game high 17 points in the second half on 4-5 shooting including 3-3 from downtown, and it looked the Cornhuskers were ready to blow the game wide open by taking a 44-36 lead.
However, NU Star Drew Crawford did not give up. After missing his first three attempts from downtown, he drilled two straight to get the Wildcats back in the game and the crowd fired up, as well as Collins on the sideline.
Northwestern guard, Tre Demps, tied the score at 44 but that would be as close as it would get. Cobb would miss a good look on the next possession to take the lead, allowing Nebraska put the nail in the coffin.
Cornhusker forwards, Walter Pitchford (15 points) and Petteway, would eventually knock down two clutch three pointers to end the Cats comeback and put them away for good.
"They hit a couple big shots down the stretch and we didn't," coach Chris Collins said after the game. "That was the difference. We had been making those shots those last few games, and today, we didn't. We got the game tied and they hit incredible shots at the end of the shot clock. Petteway's 3 was from about 27 feet with a guy all over him."
For the rest of coach Collins press conference click the link below.
Podcast: Play in new window | Download