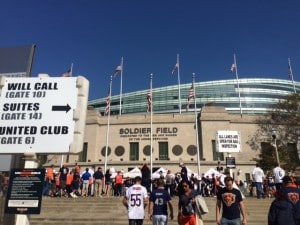 The Chicago Bears spent almost two decades looking for a "Franchise Quarterback." It now appears they could spend the offseason trying to get rid of one.
Adam Schefter reported early Saturday morning that several NFL executives believe that any team that is willing to absorb the $25.5 million worth of guarantees in Cutler's contract will also be looking for a decent draft pick. In other words, for the Bears to ultimately save money by trading Cutler they must also trade their first or second round draft pick. Not exactly what Bears fans, who have spent the last few weeks playing fantasy GM, wanted to hear.
In what is turning into a fitting ending to an embarrassing mess of a season, the Bears announced earlier this week that Jay Cutler would be benched on Sunday when the Bears host the Detroit Lions. Yes, they actually benched Jay Cutler… The same Jay Cutler who Chicago traded two-first round picks, a third round pick and Kyle Orton (and his neck beard) for back in 2009. The only person who seemed surprised by this decision was Cutler himself when he met with the media on Thursday.
"I was shocked I think at first," Cutler said. "And then I was disappointed."
The newly-benched quarterback is not the only person who is disappointed. Bears fans as well as local and national media had huge expectations for Cutler and the Chicago offense this season, but instead the Bears have struggled to move the ball and have been crtizied for showing no heart and predictable play calling. While it is easy to blame the offensive struggles on Cutler alone, many have wondered if his teammates ever actually committed to him.
"I don't think I can answer that," Cutler said Thursday. When asked if he ever wondered that himself he replied, "Yeah, I think everyone would. Its a natural response to wonder that."
So, if Cutler is not the answer, who is? Jimmy Clausen will make his first start since 2010 and unless he has improved tremendously since his days in Carolina, we have seen what he has to offer. (And it's not good.) The Bears can also forget about attempting to draft a franchise quarterback. If they have to trade their first round pick just to package Cutler, they would miss out on the FEW options available in this years weak quarterback draft class. That would most likely mean the Bears would go through rebuilding mode once again and start all over from scratch. However, if hell freezes over and head coach Marc Trestman does not get fired at the end of the season, he has not ruled out Cutler returning as the Bears starting quarterback in 2015.
"Thats where we are now," Trestman answered thursday when asked about Cutler's future. "That doesn't mean the evolutionary process of Jay's growth as a quarterback can't continue and he can't get to where we think he can be. Because every quarterback is on their own journey and some people go through these times. There's clearly evidence historically that players are 30-years old, 31-years old and haven't reached their full potential, and by the time they conclude their career they have."
So now the Bears have to ask themselves if they are willing to fork over big money to see if Cutler finally "evolves" into the player many thought he could be. After another injury riddled season last year Cutler came into the 2014 campaign healthy and ready to prove his doubters wrong and show he is worth the big contract he received, instead Cutler leads the NFL in interceptions (18) and turnovers (24). The final straw was last Monday's awful performance against the New Orleans Saints when Cutler threw three interceptions and was sacked a season high seven times. Hardly a franchise quarterback performance on national television.
The strangest thing about the benching of Cutler is the fact that he will still be active on Sunday, and rookie David Fales will not. Meaning if, heaven forbid, Jimmy "Touchdown" Clausen goes down with an injury, Cutler steps right back behind center… Think a guy with an "attitude problem" will swallow his pride and give all of his effort in a relief appearance? Yeah, me neither… Could Trestman just be proving a point to the Bears' front office that his offense works with a diffrent quarterback and by showing Jay has been the problem all along? Who really knows anymore, the only thing we do know know now is getting rid of Jay wont be as easy as it would in "Madden 15" and the Bears may have to question whether it is worth a draft pick or not.
In today's NFL, nothing really surprises me anymore. However, if major changes aren't made around Halas Hall I would be shocked. The Bears are a mess and it's not just the head coach and the quarterback, it's everybody in the locker room and front office. For years the Bears' front office has given Jay Cutler the benefit of the doubt. First, he did not have the necessary weapons to win, then he did not have the offensive line, then it was his offensive coordinators fault, then it was the head coach who only understood defense, now it's the coach who doesn't understand football. The point is, it's about time they realize exactly what Jay is. He is an average quarterback with tremendous physical gifts and talent, but unfortunately he is also a terrible decision maker, and clearly cannot lead a team to a Super Bowl. The problem is few quarterbacks can lead you to a Super Bowl.
Rodgers, Brees, Brady and Manning are all elite quarterbacks. Luck and Wilson are almost there, Big Ben is a proven winner and Flacco had one of the greatest postseasons we have ever seen a few years back. Everybody else in the league is average. To win in the NFL you need to be a great football TEAM. Only a handful of quarterbacks can lead you to a title based on their talent alone and even they need tons of help to win in the postseason. We see teams reach every year in the draft looking for a franchise quarterback. Look at Christian Ponder, Matt Leinart, Johnny Manziel, etc… Every team is looking for a great NFL quarterback, the problem is there's not a ton of them out there. Thats why we see guys like Dalton, and even Cutler himself get the big deals, everybody is looking for the next great quarterback.
Needless to say the Bears have some big decisions to make this offseason, hopefully for the fans it is finally the right one.