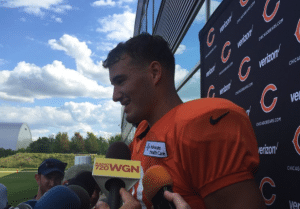 with Packer Dave and Steve Leventhal
Fresh from her Cubs postseason coverage, Dionne Miller of ABC 7 Chicago joins us to talk Chicago Bears and NFL football, including the ongoing Colin Kaepernick controversy. The Bears are surprising everyone with their tenacious defense en route to a 3-4 record. We'll talk about the other key games in the NFL this weekend, some top college football contests.  John Poulter talks about the thrilling first two games of the 2017 World Series, and this week's top EPL soccer matchup.  Plus, get our weekly DFS picks with Mike Perlow.
Hear interviews with Brett Hundley, Don Capers, John Fox, Bears OC Dowell Loggains, Drew Brees, Detroit's Jim Caldwell, Matthew Stafford, Ben Roethlisberger, Dak Prescott, Urban Meyer, Penn State coach James Franklin, and Vikings coach Mike Zimmer.
Don't miss cameos from Wayne Laravee and Pat Hughes.
Podcast: Play in new window | Download