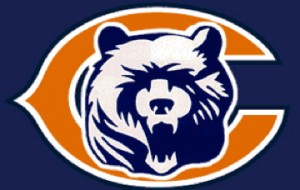 The Chicago Bears rode a dominant defensive performance en route to defeating the Seattle Seahawks in their 2018 home opener. The defense was lights out, but there are other stories beyond their showing.
Defensive domination
The Bears' defense was downright dominant against the Seahawks, and that dominance begins and ends with Khalil Mack. Germain Ifedi barely belonged on the same field as Mack. Mack simply owned him at the line of scrimmage, requiring chip blocks from the tight end and more help in any way it could come. None of it mattered, as Mack was a force all night, collapsing the pocket and making life miserable for Russell Wilson.
Mack, who finished with a sack, four tackles and a fumble, may not have stacked the stat sheet the way he did against Green Bay. But his mere presence opened up so much for the Bears' pass-rush. A case in point was Bryce Callahan, a criminally underrated cog in the Bears' defense. He lined up in the "nickel" behind Mack and had a straight shot at Wilson to force an incompletion. Another example came on a first and ten in the second quarter, when Wilson rolled out on play-action. Mack maintained the edge, forced Wilson to step back inside and Eddie Jackson cleaned it up for the first sack of his career. Heck, even newly enshrined Hall of Famer Brian Urlacher had words of praise for Mack.
"I talked to him two days after he was traded, I spoke to him a little bit. My agent Bill Johnson gave me his number and I reached out to him. He's a bad dude, man. I don't understand how you give up a guy who's that good. I'm still baffled that we got him. I'm glad that Ryan (Pace) made it happen and he's a great addition to our team. He fits in perfectly with our history here."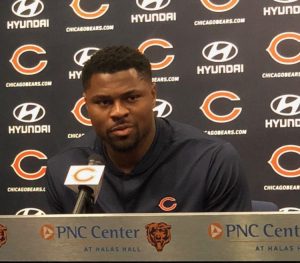 The defense finished the night with six sacks and allowed 80 net yards. The Seahawks appeared to have a chance at tying the game at 17-10 in the fourth quarter, but Prince Amukamara, playing soft zone coverage, read Raashad Penny's hitch route like a book. He sat on the route and with a perfectly timed break, stepped in front of Wilson's pass for a pick-six to seal the win. Seattle tacked on a garbage time touchdown at the end, but it was too little too late and the Bears walked out of Soldier Field as winners.. Danny Trevathan put on a show, racking up six tackles, two sacks and a forced fumble. He was key in containing Russell Wilson, and he commented on that aspect of their win, saying, "The key to playing them is never letting him get comfortable and scramble around and use his legs like that. [We needed to] create havoc for him and we did that today. He still found a way to make some plays but I think we held our ground this week." The Bears' defense did something they did not last week; the closed it out. The unit has quickly come together and they have a chance to be special.
Allen Robinson's unsung performance
Lost in the shuffle of their defensive outpour was Allen Robinson's performance. Often lined up in a solid corner in Shaquille Griffin, Robinson and Mitch Trubisky appeared to be in rhythm. He was constantly open underneath and was Trubisky's go-to pass-catcher. He finished his night with 10 receptions for 83 yards, but he would have had more if Trubisky had put more on his streak up the sideline. He had a solid three yards of separation between himself and Shaquille Griffin, and if that ball is on target it probably goes for a long touchdown. He was there when Trubisky needed an easy third-down completion and clearly demonstrated he's more than just a "go up and get it" receiver. Robinson will be crucial to this offense moving forward, and he's looked the part, especially after Monday.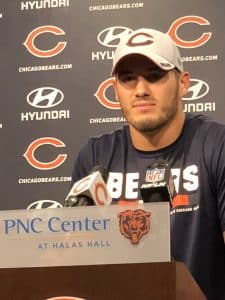 Earl Thomas's impact on the offensive approach
There has been some criticism of Mitch Trubisky's performance, some of which is justified. But it is important to remember who is playing safety for the Seahawks. When at the top of his game, Earl Thomas is the best cover safety in the NFL. Offenses have to respect him, and that respect often manifests itself in simply not throwing near him. When he is in the deep middle, any deep throw is begging for an interception. Trubisky's passing chart shows that he attempted very few passes downfield and kept most throws within ten yards. Such may be largely by design, as Thomas is so rangey as a "center fielder" and can make a break on any throw in his vicinity. Additionally, Seattle was missing its two starting linebackers, K.J. Wright and Bobby Wagner, which meant that the underneath part of the field could be exploited. At its core, the West Coast offense works by short completions underneath that bring the defense up. When that happens, the deep throws over open up. But Thomas can play the deep middle, taking away any deep shots, and still make plays underneath, effectively eliminating much of what the West Coast offense wants to do. At that point, Nagy is better off chipping away at the defense with short routes away from Thomas.
Twitter: @crbevins11
Hear audio from Brian Urlacher, Matt Nagy and Mitch Trubisky