Down 20-17 with 5:27 remaining in the fourth quarter, Mitchell Trubisky and the Bears faced a 3rd-and-four at their own 16. At the risk of falling even further behind to a third-string quarterback, it was a do or die moment that Trubisky had rarely made good on.
This time, Trubisky came through, stepping up into the pocket against the Lions' four-man rush and delivering a lofting throw in-stride to Anthony Miller on a corner route from the slot. The Bears picked up 35 yards and seven plays later, Trubisky found David Montgomery in the end zone to go up 24-20. It was a lead they never relinquished, intercepting Lions third-string quarterback David Blough to seal the win.
"I knew from the start of the game, I knew in the locker room pregame, I could tell our guys were laser-focused," coach Matt Nagy said Friday.
Only four days after his best showing of the year, a 278-yard performance against the Giants with a 60.8% completion percentage, Trubisky built off his success, completing 29 of 38 passes for 338 yards and three touchdowns Thursday. Whereas his passing charts have looked barren this season, Thursday's showed both a willingness and an ability to pull the trigger beyond the chains. For the first time all season, the Bears opened the game with a touchdown drive that put Trubisky into a rhythm he wouldn't get out of.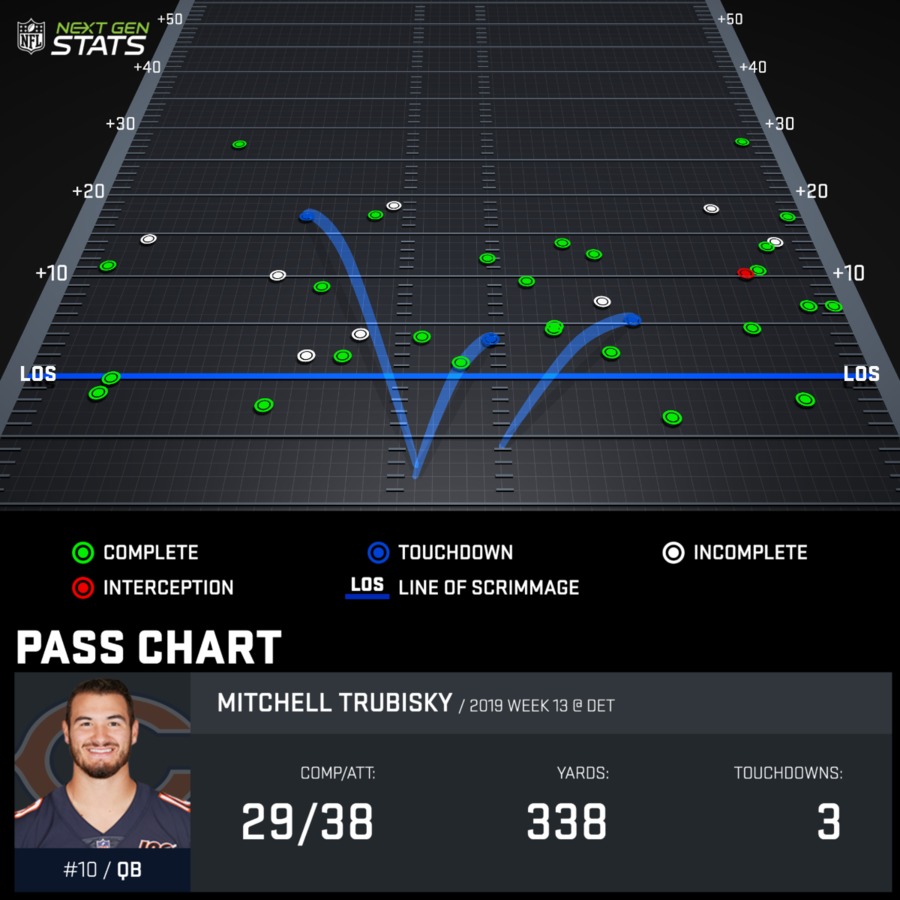 "This offense is built on timing," Nagy said. "And when you make the right decision on time, usually good things happen."
Trubisky wasn't flawless yesterday, and rightfully, he isn't afforded enough of a benefit of the doubt for his mistakes to be overlooked, making his interception to Darius Slay worth noting. At the end of the first half, he inexplicably made an effort toward the sideline instead of trying for an easy extra yard that would have converted a 3rd and four, this despite having two timeouts.
A turnover-free, big statistical performance has yet to come this season, but it's his clutch, 90-yard, game-winning touchdown drive that should be the focus of this game. Trubisky overcame drops, penalties and third downs to put his team over the top and keep them technically in the hunt. A day that could have left an extremely sour taste in the mouth–a loss to a reeling Lions team down to their third-string quarterback that would drop the Bears to 5-7–was salvaged by Trubisky.
Anthony Miller, who caught nine passes for 140 yards, had the biggest game of his career Thursday and has emerged as a legitimate offensive weapon over the last three weeks. His 21 receptions for 271 yards in that timespan has certainly helped Trubisky, giving him a secondary option in the middle of the field besides Allen Robinson. Defenses now have to account for both receivers, which only makes things easier for the quarterback, and once Taylor Gabriel and the vertical threat he poses come back, the Bears offense may look even better.
"Well he's getting more opportunities for sure," Nagy said. "Now, with all that said, alright, we want to make sure that we're still honing in on the details. And so numbers-wise he's done a good job. But we can all still improve in some areas. And he knows that, and that's going to be important here moving forward that we make sure that regardless of stat-line, that we make sure that on every play, we're doing the right thing all the time."
David Montgomery was effective as a rusher and found daylight where it hadn't been before, resulting in big gains on the ground. He had 16 rushes for 75 yards as well as the game-winning touchdown reception.
"You could just feel our offensive linemen getting to the second level," Nagy said. "Good angles with their blocks. David was running hard. I mean he was breaking tackles. He had, what, a 14 or 15-yard run that got called back. So his average might have been even higher and he might have been close to cracking 100 yards with a couple penalties that we had."
Make no mistake, the Lions are a bad team and thus make it difficult to gauge successful performances against them. Their defense is currently 30th in passing yards allowed per game and is 25th in points allowed per game. Their pass-rush was held ineffective against the Bears, collecting only one sack. But nonetheless, Trubisky has struggled against lesser teams than Detroit, so his Thursday performance was still a step in the right direction.
For the first time in a while, the Bears offense overcame the performance of the defense. Coverage busts in the secondary led to David Blough throwing for 179 yards and two touchdowns in the first half, while wide receiver Kenny Golladay consistently found himself uncovered. The Bears defense put on the clamps in the second half though, allowing only a field goal in the final two quarters as the offense put 14 on the board. The Bears are now 6-6 and have won their three "gimme" games against the Lions and Giants since their bye. With four weeks left and formidable opponents such as Dallas, Green Bay, Kansas City and Minnesota still on the schedule, the going is about to get tougher. But if Trubisky can put together these types of performances for the rest of the season, what seemed to be an inevitable change at quarterback this offseason may not be so obvious.
Follow on Twitter: @crbevins11 @radiomogul
Podcast: Play in new window | Download