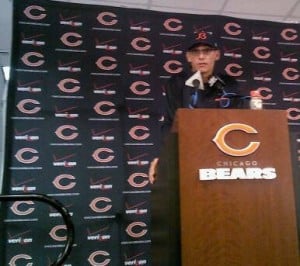 It really wasn't the score that mattered in the Bears' 18-16 loss at Soldier Field Thursday night in their final preseason game.
Nor did it matter that the Bears went 2-2 this preseason.
What really mattered at steamy Soldier Field, to the 46,932 attending the game, and most of all, to Head Coach Marc Trestman and General Manager Phil Emery were the impending, mandatory league-wide cuts that must trim the roster to 53 by Saturday.
If one could read their minds, they must have been asking themselves….who could back up and protect oft-sacked quarterback Jay Cutler, or take the place of the retired Brian Urlacher,  and which men could best showcase their talent to prove what they had to be a Chicago Bear?
Bears Head Coach Marc Trestman was hired for one reason, and that was to shore up an offense that ranked 28th of 32 teams last season. He wanted players who could protect Cutler, receive passes from Cutler (besides Brandon Marshall, who was on a most-questioned four-day leave), and provide backup when the O-line gets injured.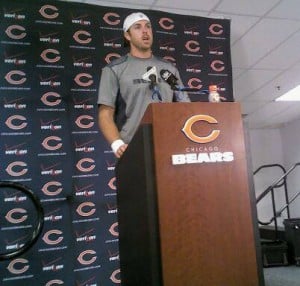 Jordan Palmer, previously known as longtime Cincinnati Bengals  Carson Palmer's younger brother, made a strong case as a backup quarterback for Cutler, completing 11 of 17 passes for 111 yards and a TD in the first half, for a 102.8 rating. He did better than his former football camp roommate Trent Edwards, who completed 10 0f 17 for 135 yards but had an interception in the fourth quarter, with 3:15 left, that eventually lost them the game. His rating sank to 59.7.
"It says a lot about his preparation," said Trestman of Palmer at the half. "He dug in; he has learned a lot of the offense and spent a lot of time, on his own, trying to assimilate all of it. I'm happy for him that he came out and played very efficiently for us."
Palmer expressed gratitude for the opportunity, and said he looked around the field for the last time, if it indeed was the last time he saw Soldier Field. "Whatever happens, I've learned so much, I'm a better quarterback, and I'll keep my head held high."
He did say he was hoping to cancel a long-planned trip to Europe with his wife, should he make the 53-man roster.
Trestman had no words for Edwards, except perhaps in a general quote that "no one played themselves off the team."
Did that include troubled tackle J'Marcus Webb? He earned a "We'll review the tape and make some tough decisions," from Trestman. He didn't help himself with a false start on the opening drive, earning Webb his third penalty on the preseason.
Trestman did wax eloquent about three rookies who earned their roster spots by sitting out this game: Right guard Kyle Long, right tackle Jordan Mills, receiver Marquess Wilson and linebacker Jon Bostic, who impressed with key tackles and interceptions in the first preseason games.
"It's sort of a right of passage for rookies to play in the fourth game," said Trestman. "Obviously, if D.J. (Williams) were healthy, we would probably play Jonathon (Bostic). Without a middle linebacker right now to replace Jonathon, we felt we had to keep him out.
"On the other side of it, " Trestman continued, "We just feel
that Kyle and Jordan have really played well and practiced well. Going into next week, unless things change, it looks like they'll be there at the guard and tackle positions. We'll make some final decisions Monday. But it looks like they've proven they have the first shot."
The roster will look very different come September 8, when the Bears open the regular season hosting the Cincinnati Bengals. They will be younger. And just maybe, a better team for it. Time will tell.