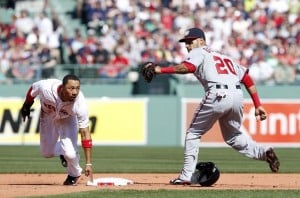 It isn't always good to be the king, or in the case of the Washington Nationals, maybe the media can lay a little low, when it comes to how easy it is supposed to be for them in 2015. The first week of their season stunk of 'meh', and things went from blah to bad in Boston, where the Red Sox took the first two and the Nats took the getaway game on Wednesday. It was back home for Matt Williams and company to get their pound of flesh from the Phillies, after the Phils took two of three in Philly the week before last. Nobody is popping champagne in the DC Metro area, even with Washington taking three of four from a division rival and finishing the week at 4 wins and 3 losses.
You have to start with Monday, because that was rock-bottom. It was all Red Sox from the word go, and the thin line that may not exist between winners winning and losers losing, the Red Sox got to win this game in the court of public opinion in their Fenway opener, thanks largely in part to the play of one Mookie Betts. The box score won't tell you this, but the tone was set when Betts, starting in center field, denied the Nats the early lead off Bryce Harper's shot to straight-away center, which the Sox rookie brought back from the land of home runs and turned into a long out. The next time Harper came to the plate, his team was down 8-0.
You have to talk about that third inning, and if you didn't see it with your own eyes, you'll have a hard time believing there's truth to any of it. Yes, we're glancing past the fact that the aforementioned Betts has stolen two bases, scored two runs, and collected three RBI on a 2nd inning home run over the left field wall. It was only 4-0 Boston when Jordan Zimmerman took the ball to start his third inning of work. He yields a baserunner by hitting Hanley Ramirez with a 2-2 pitch. Not to be outdone, Pablo Sandoval also gets hit with a 2-2 offering from Zimmerman, and it hasn't even gotten weird yet.
Good times for Michael A Taylor in center field, they were not. With two runners on and nobody out in the frame, Mike Napoli sent a long, but catchable ball to left center, right between Taylor and Jayson Werth, and I guess nobody called for it. It dropped for a single and the runners just went station to station. Boston shortstop Zander Bogaerts singled to Taylor for the first legitimate hit of the inning, scoring a run, and Taylor got busy again after Sandy Leon sent one to right-center field, which he and Harper each stood and stared at a ball that dropped no further than 5 feet from either of them. Zimmerman gave up a hit to Betts, and Matt Williams decided he'd seen enough. Dustin Pedroia hit a sacrifice fly, bringing home Boston's fourth run of the inning and eighth of the day.
The visiting team salvaged some offense and made it look better with a 9-4 final, but it was viewed by many as one of the worst losses in franchise history. A day later, they couldn't convert their 6-run fifth inning to a victory. At stretch time, they held a 7-5 lead, but it was more what we saw on Monday, a couple of hit by pitches and three errors that gave Boston three runs, without the benefit of a hit in the seventh inning, that led to an 8-7 defeat.
The return of the real Ian Desmond began on Wednesday. He found himself below the Mendoza line after an 0-for-4 performance on Monday, but has hit in every game since. It was Desmond's 3rd inning home run, his first of the year, that sparked a 6-run frame for the Nats, en route to a 10-5 victory. It was nice to get in the win column, but there was nothing inspiring about Gio Gonzalez's 4 earned runs over 6 inning outing, despite the nice amount of run support in that one. Desmond was 13-for-29 at the plate throughout the week, good for a .448 clip in the batting average column.
In the series with Philadelphia, starting pitching took over. Doug Fister has looked as good as anyone in baseball, and it was more of the same on Thursday. Another former Tiger and perhaps the most notable uniform change headed into 2015, Max Scherzer picked up his first win as a National on Friday. Zimmerman slipped a bit on Saturday, but they could have used a little more offense against Aaron Harang in a 5-3 loss Saturday, though Harper did tag him for a moon-shot to center field, but that wouldn't be enough.
The nearly forgotten Stephen Strasburg picked up his first win on Sunday, pitching 7 plus. By all accounts, he pitched well, but the story, especially after Monday, was Denard Span's return to the leadoff spot in the order. In the fifth inning, he reminded everyone of why he's been missed so much, scoring from first on Ian Desmond's double. The Nationals won 4-1, going 4-3 on the week and 6-4 on the year, which puts them 4 games behind the first place(holding) Mets in the National League East.
Last Week in Baseball
Kris Bryant, the top prospect in the Cubs organization made his Major League debut on Friday to much fanfare, but was not able to reciporcate the hype, striking out three times and going 0-for-4 in a 5-4 loss to San Diego. Things got better when he wasn't facing James Shields; in the Cubs' next two games, he reached in 6 out of 10 plate appearances, including a first inning double off of Andrew Cashner on Sunday.
Good work from the big righty in the Baltimore bullpen, Brad Brach, on Saturday in Boston. I was watching the Boston feed, so it was Don Orsillo introducing the pitching change, in what was a 1-run game at the time. The line on Brach early in the season was that he'd inherited three runners and they'd all scored. Protecting a 2-1 lead in the fifth inning, with runners on first and second, he got Daniel Nava to hit into a 4-6-3 double play. He also notched two strikeouts in a scoreless 7th, and the Orioles went on to win 4-1 on Saturday.
If you have any interest in the Seattle Mariners, you have to happy, at least for a day, about the Nelson Cruz signing this off-season. Forget the fact that former Ranger and Oriole is hitting .354 with 8 home runs and an OPS of 1.258, just look at what he did on Sunday. First and third inning home runs kept it close, making the Rangers' 7-run third inning survivable. He got his chance to win the game altogether with two out and the bases loaded in a tie game in the bottom of the ninth, and put it through the hole between third base and short, for the win.
What's wrong with the Giants? Odd year jokes aside, how does this team drop 8 straight to San Diego, Colorado, and Arizona? At least they found a way to win on the night they got their rings, a 4-1 win over Arizona at home Saturday, but one win so far on a 7-game homestand, with the Dodgers coming in for three. If they don't right the ship soon, 2015 will be over for San Francisco, before we really get going.
Matt Holliday has hit safely in all 11 of the St Louis Cardinals games in 2015. He was 1-for-3 in the Cardinals nationally televised 2-1 win over Cincinnati Sunday night. The real story of that game was that it ended in 2 hours and 2 minutes. The losing pitcher of record Mike Leake combined with Adam Wainwright, who notched the win, and Jordan Walden for exactly 200 pitches. Now, I'm not sure I'm one to fuss and fight about how long it takes to watch a ball game, but there are worse things than being able to do whatever you want 7:07 PM on Sunday night out west.