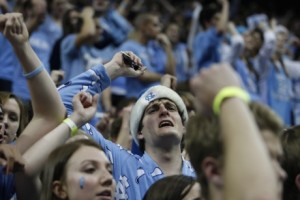 The unthinkable happened in Chapel Hill Wednesday night. Duke rallied from ten points down to stun North Carolina with a buzzer beating three-pointer by Austin Rivers.  With his father "Doc" looking on, the freshman peeled off a screen and roll and drained a shot from beyond the arc, as seven-foot center was unable to switch off and defend him.
A couple of missed free throws on attempts by Harrison Barnes and Zeller enabled the Blue Devils to attempt a tying or winning shot with mere seconds remaining.
The Duke Chronicle, the student newspaper said,"With the final seconds ticking off the clock, Austin Rivers had already played the game of his life on the season's biggest stage. But the Blue Devils still trailed by two, and the 6-foot-4 freshman stood dribbling on the right wing, guarded by 7-foot senior Tyler Zeller.
Looking first at the clock, then the imposing body in front of him, Rivers subtly jabbed, creating all the space he needed to swish a 3-pointer and give Duke an 85-84 victory over North Carolina at the Dean E. Smith Center.
Read the rest of their story
Kelly Parsons, scribe for the Daily Tar Heel wrote, "They knew exactly what was about to happen. With less than 14 seconds to go in the game, No. 10 Duke trailing No. 5 North Carolina by just two and the ball in Austin Rivers' hands, Kendall Marshall predicted the next play as if he could read the freshman guard's mind. But instead of stopping Rivers' 3-point buzzer beater that would give the Blue Devils an 85-84 come-from-behind victory Wednesday at the Smith Center, all Marshall could do was sit back and watch it unfold."
Read the rest of their story