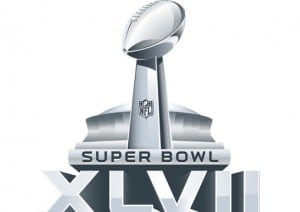 As another wild and unpredictable football season comes to a close this Sunday, NFL commissioner Roger Goodell has  to be licking his chops with the feast fans will receive this Super Bowl XLVIII.
On one side you have the face of the league and arguably the greatest quarterback of this generation in Peyton Manning, on the other side you have the hard hitting Seahawks and their outspoken leader, defensive back Richard Sherman. Needless to say Fox does not have to worry about their ratings for this Super Bowl.
Before the big game, here is my preview for Sundays battle of the leagues best offense vs the leagues best defense.
WHEN DENVER HAS THE BALL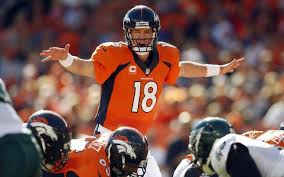 Peyton Manning has had a dream season, one Hollywood has to be dreaming of making a movie about. After an already outstanding career, Manning faced many questions regarding his future when he took over as the Broncos starting quarterback after spending 14 seasons with the Indianapolis Colts ,where he won four NFL MVP awards and one Super Bowl ring.
Manning had arguably the best season by a quarterback in NFL history – completing 68.3 percent of his passes for 5,477 yards and 55 touchdowns (to only 10 interceptions) breaking Tom Brady's previous record of 50.
While Manning remains the games top signal caller, he is not invincible. Manning has never been a mobile quarterback or able to move well outside of the pocket, and now that he has a titanium plate and four screws in his neck he likes to get hit even less.
The best way to slow Manning will be for Seattle to play tight press coverage which will allow their big and physical corners to get their hands on Denver's talented receivers and disrupt the timing of their routes.
The matchup everybody will be tuning in to watch will be Seahawks defensive back Richard Sherman covering Broncos Receiver Demaryius Thomas; however,  we have to wonder if we will see that matchup all night long. The Seahawks usually like to keep their corners on their respective sides no matter if the opponents top reciver lines up on the left or right. We did see Sherman follow around 49ers reciever Anquan Boldin in Week 2 and hold him to one catch but in the NFC title game he mostly stayed home on his side.
While Thomas will see most of his targets on more physical routes, The Broncos other receivers Wes Welker and Eric Decker will look to get open using their speed and excellent route running. The Broncos will also split out tight end Julius Thomas to wide receiver to help spread things out.
I am intrigued to see if the Seahawks will stick to their cover 3 defense when they go up against Peyton Manning ,who has had two weeks to study and prepare for them. Most teams would change schemes in fear of dropping 7 guys back in coverage and risk  allowing  Manning to have the time to pick them apart. Seattle,however, does not lack confidence ,and I would be surprised if they changed schemes, instead I see them challenging Manning to make the plays to beat them.
If the Seahawks stick with their usual package, I would look for the Broncos to mix up their formations using bubble screens and " rub" plays, along with their usual crossing routes.
Manning should also have the services of running back Knowshon Moreno, who is probable after suffering a rib injury late in the game against New England. Moreno has been the Broncos most consistent back this season rushing for 1,038 yards and 10 touchdowns in the regular season.
If Moreno is unable to go or receives limited touches, look for rookie Montee Ball and second year back Ronnie Hillman to split the carries. No matter who runs the ball for the Broncos, they will most likely have a rough time; the Seahawks front four has the potential to beat the broncos up over and over again.
Seattle will have a mismatch all day on the outside with Cliff Avril and Chris Clemons going against Broncos backup tackle Chris Clark and that will give Moreno and Manning headaches all game long. Clinton Mcdonald and Michael Bennet will be the defensive tackles in passing situations, and they both have been nothing short of spectacular this season, Bennet will be looking for big money this offseason after leading the Seahawks with 8.5 sacks on the year.
Everybody knows who Richard Sherman is now ,but few people may know opposite Cornerback  Byron Maxwell,  which is a shame. When Walter Thurmond was suspended, Maxwell took over and  has really made a name for himself since entering the lineup.   He finished with four picks despite starting just five games at the end of the season.
As mentioned earlier, Maxwell along with Richard Sherman will most likely press the Bronco recivers throughout the day. This will allow free safety Earl Thomas to play center field and play four underneath zones with strong safety Kam Chancellor, and two of their linebackers.One of these linebackers will be  play maker Bobby Wagner who recorded 120 tackles during the regular season.
While I would usually give Manning the advantage, it is harder than ever in this game. He has all the weapons he has always longed for: a great possession receiver in Welker, a burner like Eric Decker, and a big target in Demaryius Thomas. However, the Seahawks are just so fast and relentless on defense.
You would have to figure Manning has been watching tape for two weeks non stop now ,but check out Richard Sherman breaking down the corner positon courtsey of YouTube. It will be fun to watch these two great football minds battle for the biggest prize in the NFL.
http://youtu.be/VbQGlO0B5nY
WHEN SEATTLE HAS THE BALL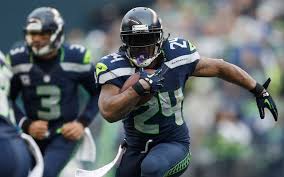 On one side, you have Peyton Manning ,the veteran and possible G.O.A.T ,on the the other side, you have new comer Russell Wilson ,who is in only his second season in the league. Wilson is a terrific game manager.  He is able to get outside of the pocket and really do some amazing things which helps make up for his lack of size and experience.
Wilson struggled at times during the final weeks of the regular season but all he really has to do is manage the game and not make any costly mistakes. In the NFC Championship against the 49ers, he did  throw the  eventual game winning pass on a 4th and 7 free play after a hard count drew the 49ers offside, and he found Doug Baldwin in the end zone for a 35 yard touchdown.
During the regular season, Wilson threw for 3,357 yards and 26 touchdowns ( to only 9 interceptions) and rushed for an additional 489 yards.
"He has that awareness that great players have," Seattle coach Pete Carroll said. "They don't have to to see things happening; they can feel it. You couldn't do the things that he does without that great spatial awareness and athleticism and stuff that goes along with it."
Wilson benefits from having one of the best and most punishing running backs in the league in Marshawn Lynch who rushed for 1,257 yards during the regular season, his third consecutive season with at least 1,200 yards. The most dangerous thing about Lynch is that most of his yards come after contact, he rushed for 752 yards after first contact this season which will be a problem for the beat up Broncos defense.
The Seahawks do not have the same household names that the Broncos do in receivers. Yet, the availability of Percy Harvin as an X-factor changes things.
Harvin will be a tough matchup for either Dominique Rodgers- Cromartie or the old and wounded Champ Bailey, who has been thrown back in the mix after the injury to starting corner back Cliff Harris. I would  be suprised to see Harvin get any double teams only because that would mean more one on one opportunities for fellow recivers Doug Baldwin, Golden Tate, and Jermaine Kearse as well as tight end Zach Miller.
With just five TD passes and four interceptions in his last six games, Russell Wilson has hit a rough patch at the wrong time and he's up against a defense that has been playing great football in the last few weeks (allowing just 15 ppg over the last four), even while losing their best player in linebacker Von Miller week 16.
The Seahawks will most likely try to pound the ball down the Broncos' throats, and I have always said the best way to stop Peyton Manning is to keep him off the field with good clock management and a strong running game. I don't expect Russell Wilson to be spectacular, but he will not cost his team the game either.
While the Seahawks are known as a power running team, they are not a one trick pony. They use alot of zone blocking to catch linebackers off guard and isolate Lynch on a safety. Surprisingly, they struggle with short yard runs, which is where it gets interseting because the broncos have a  very physical defensive line.
The man who could be the key to the entire game,  will be Broncos big defensive tackle Terrance Knighton, aka Pot Roast, The 6-3, 335-pound monster. In the AFC Champoinship game, the Patriots tried blocking him one on one and he blew up their run game by pushing blockers into the flow of the play and by utilizing a great swim move to elude blockers.
MLBs Paris Lenon and Wesley Woodyard and WLB Danny Trevathan are very aggressive and have done a great job stuffing the run.With Travathan, they get a backer who rarely has to leave the field. He's very instinctive and has great quickness, which is why he's excellent in pass coverage.  He does lack size though.
RYANS PREDICTION
It seems, even though the broncos are the favorites in Las Vegas, most " experts" are picking the Seahawks. It is hard to argue that and like I said on my weekly radio show, Seattle came into the season with a chip on their shoulder and a can't lose attitude,but I can't help but cheer for the magic of Peyton Manning. Anyone who in their late 30s and goes through four neck operations to get back on the field is a hero to me. This guy has silenced all of his doubters so far this season; now all he has to do is win the big one. With the weather supposed to be in the 40s,I do not think that will play a huge role in the whole " Peyton can't win in the cold" myth, so I think we will see him throw for over 300 yards. I know the Hawks will put up a fight and they just may be the better team, but I am picking the magic of Peyton and the Denver Broncos as your 2014 Super Bowl champs.
Final Score
BRONCOS 28- SEAHAWKS 24