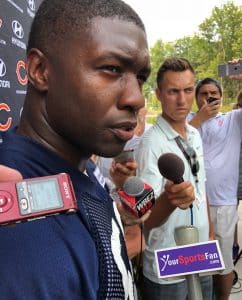 "I maintained my focus just knowing that we'll get something figured and I was confident that we would," stated Chicago Bears rookie linebacker Roquan Smith. The former Georgia Bulldog was the last of the first round draft picks to sign with his team, returning to practice Tuesday, August 14th. Beyond that, he kept pretty mum about how the two parties came to an agreement.
Several times he repeated words to the effect of "that was between my agents and Mr. Pace," referring to the Bears' GM, and what exactly allowed the two parties to work out the issues. The differences revolved around what would happen if Smith was fined or suspended for violations of the new helmet rule, and the impact on Smith's contract terms.
Coach Matt Nagy appreciates the situation. He wanted his top draft pick, but knows there's a business side to things.  "It's hard because both sides in the end are trying to protect each other. But for Roquan, we got him in here so he can play football, which is ultimately the goal.  I think we're all big boys in this thing, and we understand what goes on, and the ultimate ending right now is that he's here. We understand that. He's got a lot of work to catch up." He went on to state that he would get together with defensive coordinator Vic Fangio over the next several days and evaluate Smith's progress.
He also talked about the fact that as a middle linebacker, and the captain of the defense, there would be a lot of work for Smith to get up to speed with his teammates. "The spot has a lot of calls," noted Nagy. "So it's one thing to have the playbook and see it on video. It's another thing to be out there on the field and doing it. For him, because he plays that position, there might be more catching up to do than say a corner."
Roquan is ready to move forward. "It's up to the coaches to decide on when they feel I'm Ready, but I'll do whatever I can do to prepare myself the best way.  I got confidence in the coaches to get me back up to speed."  Regarding the contact negotiations, Smith said, "It's in the past. I'm happy to have it done. It's a great feeling to be back out here with my teammates."
Later in his comments, Nagy talked about his overall philosophy regarding playing time. "We put the best players that are out there in every position. And we don't give a position to anybody. So, no matter what position you are, who you are, what your name is, where you came from, I don't care we don't care. Earn it.  When you do that it makes life real simple, and you're honest with the guys. You tell them the truth. And if you play like crap on tape,  you're not playing. If you play well on tape, you play."
Listen to excerpts from comments by Matt Nagy and Roquan Smith