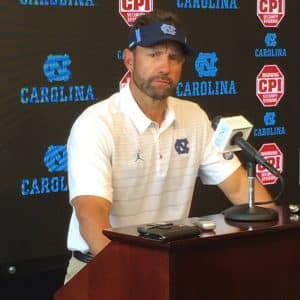 When UNC head coach, Larry Fedora stepped to the press room microphone following his team's 47-35 home loss to #16 Louisville on Saturday, it was clear he was frustrated with the game's outcome.
"It's discouraging," Fedora said. "That's not the way we wanted to open conference play. We didn't do enough on offense to win the football game, and we didn't do enough on defense to win the football game. I thought we did enough with the special teams to win the football game."
Regarding the play of special teams, Fedora could have easily had starting wide receiver, Anthony Ratliff-Williams, in mind. The 6′ 1″ redshirt sophomore serves as North Carolina's primary kickoff return man. A native of Matthews, NC, Ratliff-Williams had returns of 39 and 24 yards before ripping off a 94-yarder for a touchdown which cut the Cardinal lead to 27-21. He finished with 199 kickoff return yards on the day to set a UNC single-game record.
The Tar Heels stopped Louisville on their next possesion before taking a 28-27 lead going into the fourth quarter. It was the last points the Tar Heels would tally before chalking up a somewhat meaningless TD with 31 seconds left in the game. The Cardinals' reigning Heisman Trophy winner, Lamar Jackson, ran for two touchdowns and threw for another in the decisive fourth quarter to put the game away. Jackson finished the game with 393 yards passing, 3 TD tosses, 132 yards on the ground, and three rushing TDs. That's not a missprint. Jackson accounted for six of Louisville's seven touchdowns on the day.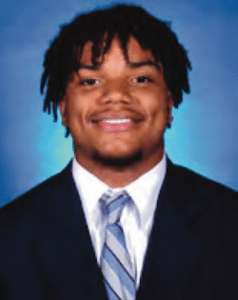 Louisville's 705 total yards were the third most ever allowed by UNC, and the most by an opponent in the 90-year history of Kenan Memorial Stadium. Jackson's 525 yards of total offense were the most by any UNC opponent.
Another bright spot for the Tar Heels in their loss to the Cardinals was the play of defensive tackle, Jalen Dalton, a 6′ 6″ 295-pound junior from nearby Clemmons, NC.
Dalton dominated the defensive line for UNC. He finished the day with two QB sacks, and two additional tackles for loss behind the line of scrimmage. The big man also showed off some serious speed in the fourth quarter when Louisville running back, Reggie Bonnafon, broke through UNC's front line and sprinted 74 yards down the left sideline before being caught from behind by Dalton. It's not often you see a 300-pound lineman chase down a 200-pound tailback, especially when the expanse covers three-quarters the length of a football field.
Fedora made a point to give Dalton props during his post-game press conference.
"There were some flashes when (Dalton) made some really nice plays," Fedora said. "On that last long one, I think that was Jalen Dalton who ran the guy down. I mean, at 300-something pounds, that's pretty impressive."
Predictably, the loudest cheers of the day from the North Carolina home crowd came during halftime. UNC's 2017 national championship men's basketball team was on hand to receive their championship rings presented by members of the Tar Heel's 1957, 1981, 1993, 2005 and 2009 NCAA title teams. It was one big, happy Carolina Blue family reunion on the field, and possibly the largest ever collection of NCAA championship rings assembled in one place.
UNC goes to 0-2 on the year and squares off against 2-0 Old Dominion next Saturday in Norfolk, VA. Kickoff is scheduled for 3:30 p.m. EDT.