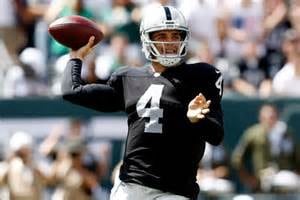 If only the Bears could have walked away at half time against the Seahawks last weekend in Seattle, but no… the NFL requires the teams to play 60 minutes which turned a 6 – 0 deficit at half into a 26 – 0 beat down. Even with their 0 – 3 record, there is a lot of Chicago faithful that believe the Bears season actually starts this week.
Playing the Packers, Cardinals and Seahawks in back-to-back-to-back weeks was a rough way to start the 2015 season for a team on the decline but now the schedule lightens up… or does it?
The Raiders come to town and boast a 2 – 1 record, a record they haven't had since 2002, and are the best team in the state of California. That's right, the Raiders are the BEST team in the Golden State and are only going to get better as the season progresses.
Led by quarterback Derek Carr and wide receiver Amari Cooper, the Raiders young nucleus of players have shined bright early on in the season. Latavius Murray looks to crack the 100 yard mark 2 weeks in a row after his 26 carries, 139 yard performance against the Cleveland Browns.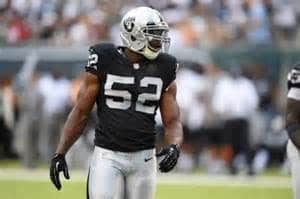 On the defensive side of the ball the Raiders have a nice mix of young and old talent as 2nd year DE Khalil Mack anchors a strong defensive line. Ex-49er Aldon Smith will see the field more as he gets acclimated to Jack Del Rio's team. Old and reliable, Charles Woodson still roams the secondary as a centerfielder and made the game clinching interception last week in Cleveland.
I could continue talking about the Raiders but everyone knows that this game comes down to one thing, the starting quarterback for the Bears.
Last week the Bears offense totaled 146 yards and Clausen only threw for 63 of those yards, which is 11 less than what Matt Forte totaled on the ground. If Clausen is the starter for the game on Sunday, the Raiders will win their 3rd consecutive game, which hasn't happened since 2011 and the Bears will fall to 0 – 4, which hasn't happened in 15 seasons.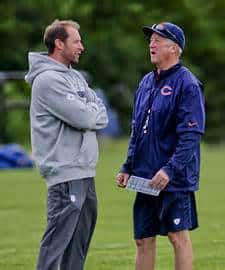 Though it is doubtful, if Cutler can play, the Bears have a chance to make this an entertaining game. Both Cutler and Alshon Jeffery practiced on a limited basis this week and have an outside shot of suiting up but fans most likely will see both of them in street clothes again this Sunday.
Expect the Bears to try and pound the ball again this week to keep Carr and company off the field. Adam Gase might allow Clausen to test the young corners of Oakland but don't anticipate to see an aerial show by Mr. Spaghetti Arm. The Bears are in a transition year with an injured quarterback and no expectations, maybe Dave Fales is the answer.
---
Raiders Bears Notes & Predictions
Key Matchup: Healthy Jimmy Clausen vs. Questionable Jay Cutler
Key Injuries: QB Jay Cutler (Doubtful), WR Alshon Jeffery (Questionable)
Fact: First time the Raiders have been favored on the road in 3 years
Fantasy Spotlight: WR Amari Cooper
Spread: Raiders -3
Prediction: Raiders 24, Bears 13
---
@WesEvans24