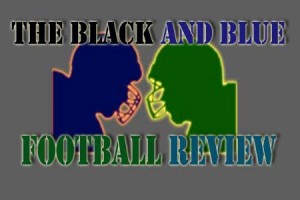 with a cast of many, including Packer Dave and Len Ackerman from the Bears-Packers Showdown
The BLACK AND BLUE FOOTBALL REVIEW features discussions and interviews covering Detroit, Chicago, Green Bay, and Minnesota. New shows are posted each Thursday during the football season. For fans of the Black and Blue division, you've found the show you'll listen to through the Super Bowl!
Show from 1/2/13 – Ted Glover returns to preview the Packers and Vikings playoff game. Cameos from Jeff Foxworthy and Dick Vitale.
[jwplayer mediaid="7420″]
Show from 12/26/12 – Ted Glover from the DailyNorseman joins us to preview the Vikes-Packers game.
[jwplayer mediaid="7284″]
Show from 12/19/12 – Doug Russell from 620 WTMJ joins the conversation.
[jwplayer mediaid="7188″]
Show from 12/12/12 – Special guest Ted Glover from The Daily Norseman, and a cameo appearance by Bob Costas
[jwplayer mediaid="7084″]
Show from 12/6/12
[jwplayer mediaid="7026″]
Show from 11/28/12
[jwplayer mediaid="6922″]
Show from 11/20/12
[jwplayer mediaid="6872″]
Show from 11/15/12
[jwplayer mediaid="6763″]
Show from 11/7/12
[jwplayer mediaid="6652″]
Show from 10/31/2012
[jwplayer mediaid="6560″]
Show from 10/24/2012
[jwplayer mediaid="6469″]
Show from 10/18/2012
[jwplayer mediaid="6388″]
Show from 10/11/2012
[jwplayer mediaid="6261″]
Show from 10/4/2012
[jwplayer mediaid="6223″]