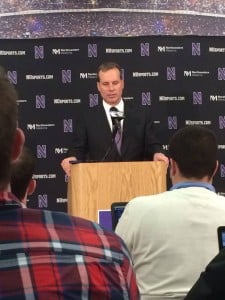 Saturdays contest between Purdue and Northwestern University was a matchup between two teams on completely different paths.
Northwestern entered the game with a 10-10 overall record and a putrid 1-6 mark in Big Ten play. The Wildcats could have easily been 13-7 however, losing their last three games by a combined five points before Saturday's matchup with Purdue.
The Boilermakers on the other hand visited Welsh Ryan Arena- coming off two big wins against nationally ranked opponents, and with a rejuvenated defense that leads the Big Ten in field goal percentage defense (.383)
None of that mattered to Northwestern however in the first half— as they opened the game by shooting 42% from the field, and took a 29-28 lead into the break after a buzzer beating-running jumper by freshman point guard Bryant McIntosh. McIntosh had another impressive first half, scoring 8 points and dishing out 3 assists to make up for the early struggles of Tre Demps (3-11 from the field)
The second half was another story however, as Purdue (14-8) would come out of the locker room looking like a totally different team. The Boilermakers would outscore the Wildcats 40-31 in the second half and improve to 6-3 in conference play, while beating Northwestern in Evanston for the first time since the 2011-2012 season– 68-60.
Northwestern center Alex Olah had no answers for Purdue big man, A.J. Hammons who would lead the Boilermakers with 16 points and 9 rebounds. Rapheal Davis would also have a big second half, scoring 12 of his 15 points for Purdue.
"We have had a tough time with Olah in the past." Purdue head coach, Matt Painter said after the win. " Obviously Northwestern beat us twice last year, and I thought he played really well. That matchup was really key and we were able to get the best of him this time."
Bryant McIntosh would continue his strong play in the second half for the Wildcats and finished the game with 18 points on 7-12 shooting, but Northwestern struggled to get any stops in the final ten minutes and could never pull closer than six points.
" The game was lost in the first six minutes of the second half" Northwestern head coach Chris Collins said after the game. "Give Purdue credit. They deserved to win tonight"
Northwestern guard Tre Demps would improve on his rough start— going 3-7 in the second half—to finish with 18 points, but it was not enough for Northwestern (10-11), who now has to travel to Nebraska on Tuesday to take on the (12-9) Cornhuskers.