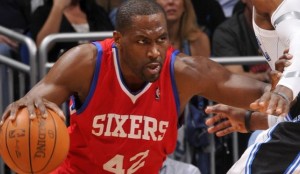 Joakim Noah put it rather succinctly.  "We got our asses kicked today." The Philadelphia 76ers took advantage of a third quarter meltdown by the host Chicago Bulls. The ensuing collapse wiped out a 55-47 lead, and which morphed into an 83-69 deficit after three periods. The 109-92 victory enabled the visitors to tie their first round NBA playoff series at a game apiece.
During the aforementioned third quarter, Chicago couldn't hit river water if they were standing on the Michigan Avenue bridge, missing 15 of their 20 shot attempts.  Some of that could be attributed to a stifling 76ers defense.  They forced bad shots, and equally important, grabbed eleven defensive rebounds while hitting 15 of their 22 shots. "We were a little upset at halftime.  We gave them 11 straight scores at the end of the second quarter. And we just talked about how we had 47 points and we should be winning the game, on the road and we should have been winning. Our defense let us down," stated Philly coach Doug Collins. "At half time [assistant coach] Michael Curry talked to them, and I sort of sat back just listened to him talk to the guys. We came out and were active. Got running and we had 25 fast break points."
Elton Brand noted that at halftime, "It was a hostile environment. The coaches were upset. We were disappointed in our effort on the defensive end, because we were scoring well. We made an adjustment. The coaches did a good job recognizing how they were scoring in the pick and roll. Once we changed that, we opened up played some great defense, got some good shots and got our lead."
Philadelphia never relinquished that lead. It swelled to as much as 24 points and never got closer than 15.
Jrue Holliday led all scorers with 26 points, one of six 76ers in double figures.  Joakim Naoh led Chicago with 21.
Hear post game audio from Collins, Elton Brand, and Andre Iguodala
[ti_audio media="3734″]