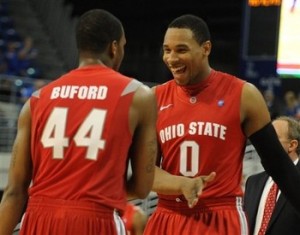 (Evanston, IL) The Northwestern Wildcats fought back from a double digit deficit to tie their game with the Buckeyes on a long three-pointer by Alex Marcotullio with seven seconds to go. Unfortunately, just as they had been unable to do all night, they allowed OSU's all world forward Jared Sullinger to sink a chip shot inside the paint with two seconds on the clock for a 75-73 win. In describing the shot, Sullinger noted, "[Aaron] Craft threw a perfect pass to me and led me right to the angle of the backboard. He let me turn over my left shoulder and finish with my right hook. The bread and butter."
That pass may have dealt Northwestern a severe blow to their NCAA chances. Perhaps only two wins in the Big Ten tourney can buy them their first ever ticket to play in March Madness.
"They're playing in one of the most incredible conferences I've ever seen, and I think they're a very talented team," said OSU coach Thad Matta.  He added, "I know this, I would hate on selection Sunday to see us draw them [as an opponent."]
Sullinger's line was all pro: 22 points, 18 rebounds, 3 assists, and 2 blocks, and he was one of four Buckeyes in double figures.
NU's Drew Craowford  led all scorers with 23 and John Surna added 22.
The Wildcats' torrid 3-point shooting (54.5% in the second half) got them back into the game, after falling behind 39-29 at halftime. Northwestern double teamed more, and caused a total of 16 turnovers.  they made their little run beginning with a Marcotullio 3-pointer with 5;25 left, and some steals and rebounds allowed them to close the gap.
Throughout the game, it was Ohio State's inside game and offensive rebounding (20) that ultimately gave them the win.
Hear from Thad Matta, along with NU coach Bill Carmody, and his players John Shurna, Drew Crawford
[ti_audio media="2736″]