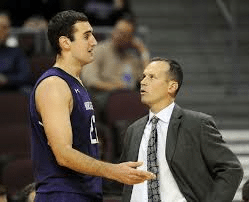 The weather wasn't the only thing that was sloppy Sunday night in Evanston as Northwestern hosted Chicago State in a very low scoring game. In the end, it was the Wildcats size and speed that separated them from the Cougars which helped get the Wildcats to 8 – 1 on the season.
Northwestern didn't score until the 3:49 mark as poor outside shooting and some ill-advised turnovers kept them from finding their offensive rhythm. The Cougars full court press was able to pressure the Wildcats into a turnover and a couple rushes possessions which gave them a 5 – 0 lead over the home team.
The Wildcats were finally able to settle down and break they Cougars press with relative ease but ended up shooting 5 – 18 from three for the first half. Northwestern was much better inside the arc as they were 6 for 8 and Chicago State had no one to match up with Alex Olah.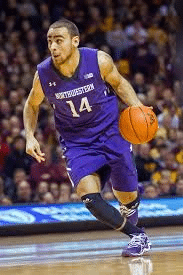 Olah imposed his will on the Cougars defense in the paint and was able to put together a nice game line of 9 points, 2 rebounds and 2 assists. The Wildcats did not need a big game out of Olah but his presences on the defensive side of the floor was felt after he was able to block 3 shots. Head coach Chris Collins will look towards Olah's direction later this month once Big Ten conference play starts against Nebraska on December 30th.
The heart of the Wildcats, Tre Demps, had a nice game while leading his team in points and rebounds. Demps scored 23 points, while pulling down 9 rebounds and adding 3 assist. Demps was able to break the Cougars press with his unique ability to push the ball which helped alleviate some of pressure.
The game was over by early in the 2nd half as the Wildcats were able to pull away from the Cougars, outscoring them 46 to 20. The Cougars ran out of gas on both ends of the court and it was obvious on why they are a 3 – 8 team.
Coach Collins knows that these games against lesser opponents are just window dressing for the rest of the season and the wins are fun but none of it matters if the Wildcats don't make the dance. Coach Collins was brought in for one reason, have Northwestern make the NCAA tournament for the first time in the programs history.
@WesEvans24