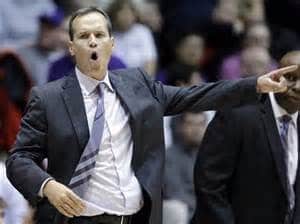 Some fans might have been expecting an exhibition type game in Evanston but it sure didn't feel like it, as the Wildcats held off the Fairfield Stags 72-79. In the end, the Cats were too big and fast for the MAAC team from Connecticut which helped the Cats improve to 2 – 0.
There were some familiarities between last year's Cats and this 2015-16 team on the court tonight as the defense intensity was in midseason form. Half way thru last season, Coach Chris Collins instituted a 2 – 3 matchup zone defense that helped lead the Cats to a 5 – 3 record in their last 8 Big Ten games. Coach Collins has had a whole offseason to sharpen his team's defensive prowess in the 2 – 3 zone and only time will tell if it can contain Big Ten opponents.
The Cats had freshman Aaron Falzon leading the way in scoring at half with 9 points and ended up with 13 for the game. The 6' 8" forward from Newton, Massachusetts had another nice game after scoring 20 in the Cats season opener against UMass Lowell. Falzon brings a stretch 4 mentality to the Cats which has helped boost NU's 3-point scoring.
With a year under his belt, point guard Bryant McIntosh looks to establish himself as a legitimate Big Ten point guard and lead this Cats team to the post season. McIntosh has bulked up from last year and continues to fill up the stat sheet as he dropped 20 points, with 5 assists, 4 steals and 5 rebounds. If it wasn't for his heroics late in the game, NU might have been upset by Fairfield.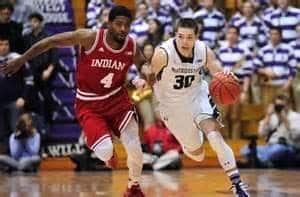 In his senior year, Alex Olah is looking to dominate down low and hopes to build off of a great junior campaign where he averaged 11.7 PPG, 6.9 RPG and 1.8 BPG. The Cats weren't in dire need for a big game from Olah as he scored 10 points and pulled down 5 rebounds. Expect some big games from Olah this year as he will have to be one of the main contributors if the Cats want to have a great year.
The only unfamiliar part of this game was the lack of 2nd year forward Vic Law, who will miss 4 – 6 months with a torn labrum in his shoulder. The 6-7 wing averaged 7.0 points and 4.8 rebounds in 24.4 minutes per game during his freshman season.
"We're certainly disappointed for Vic," said Northwestern head Men's basketball coach Chris Collins "He dedicated himself and made great progress during this offseason, and had a great summer and preseason on the court. I have no doubt that his attitude toward recovery and improvement will be relentless and that he will continue to be a tremendous teammate. We expect a full recovery in 4-6 months and Vic remains a foundational piece of our program for the future."
Even without Law for the season, Coach Collins is trying building this program into a contender but will have to make some serious noise in the Big Ten for the tournament committee to believe his team is ready to take the next step.
---
WesEvans24