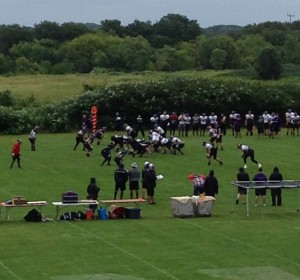 A lot of questions are surrounding the Northwestern Wildcats this season. Will they rebound from a 5-7 record? How will their running game do without Venric Mark the first two games? Will that suspension affect the rest of his season? How will they adjust from a two quarterback system to just one leader? During Northwestern training camp on Tuesday, it was 58 degrees, it was windy, and it was raining. But that didn't stop the Wildcats from putting on a show.
Venric Mark's Suspension
Northwestern's running game took a big hit when starter Venric Mark was suspended for the first two games of the 2014 season for violation of team policy.
"It's shocking, but I just wanna say that I'm really disappointed." Mark said. I was sitting out for a year and I was looking forward to coming back, but I'm gonna embrace this. My teammates have given me great support. I'm just doing what I can to make sure the other guys are ready." Mark was granted a fifth year of eligibility playing football at Northwestern after a leg injury cut his season short last year. "We're gonna take a hit in September, but I fully expect us to be 2-0 before I get back." He added.
Mark is still allowed to attend training camp and practice with his teammates. He didn't miss a step as he continued to impress during reps.
Every college player has to face the music eventually then they do something wrong. When asked if the suspension was something he could've avoided, Mark responded, "All mistakes can be avoided if you look at them. But right now, it wasn't avoided. So like I said, I'm going to embrace it. Right now, there's no point in me pouting. Does it hurt? Yeah it hurts really bad. But at the end of the day it is what it is."
"Actions have consequences." Said running backs coach Matt MacPherson. "No matter whether you're the first player on the roster or the third, or fiftieth, or hundredth, actions have consequences."
Venric Mark discusses suspension, running back corps, and role as a mentor
Stephen Buckley's Road to Recovery

It's never easy to see a player's career threatened because of injury, especially when he's only a redshirt freshman. For Running back Stephen Buckley, who injured his knee last year against Nebraska, it's just a matter of taking it one day at a time. He did not practice again today, and when he returns is still questionable. He has not seen the field since his injury. "Initially when I got hit, I thought this could be the end." Buckley recalled. "As soon as I got hit, my body went into shock. I reacted very frantically. I was on the field crying like a baby. Immediately after that, I knew it was something seriously wrong. But by the grace of god, he's given me another chance to play the game again."
Buckley was the second Northwestern running back to be taken out because of injury last year; The other being starting running back Venric Mark. With Mark suspended the first two games of the 2014 season, Buckley could see extended playing time should his knee heal up by opening day on August 30th.
"Right now I'm just rehabbing it. I'm just taking it day by day getting ready for the season." He added. When asked if he would be ready for the opener against California, Buckley responded, "Like I said, I'm just taking it day by day. Right now, I'm just trying to take these things as they come. I'm just working on strengthening my knee right now, so I can be ready come the time I take a big hit like in Nebraska."
"He's had a great attitude." Said running backs coach Matt MacPherson. "He's been in it mentally, and he's done a great job there."
Stephen Buckley discusses injury, talks healing process
Pat Fitzgerald discusses position battles, expectations
Head Coach Pat Fitzgerald discusses upcoming challenges, position battles, and expectations
The Running Corps
National signing day always puts a lot of attention and pressure on high school athletes. This year, the Wildcats have two freshmen with a lot of hype surrounding them; running backs Justin Jackson and Solomon Vault. Both of them have received praise from their coaches and teammates. During camp, Jackson put on a nice performance with nice speed and quick footwork.
Venric Mark explained his role as a teacher during his suspension. "Right now Justin Jackson and Solomon Vault are actually having a really great camp. I've just been trying to be their mentor, talking to them, making sure they're in the film room, making sure they're soaking up everything from coaching, basically just telling them to play their game, and they've embraced that."
Matt MacPherson had his own take on Jackson and Vault. "I've been extremely pleased with the way they've picked up this offense. We've asked them to do a lot of stuff in the run game, the pass game, and protection. It hasn't always been perfect, but they have a pretty good command of what we're trying to do."
Pat Fitzgerald had his own short, simple view of the rookies. "I like them. I like them a lot."
However, a majority of the carries during Venric Mark's suspension are expected to be made by returning senior Treyvon Green. After Mark was absent most of last season, Green stepped in and lead the team with 736 rushing yards. "He's been steady. Steady as she goes." Matt MacPherson said. "He played some of his best football early last year when he was healthy. He had maybe the best season in Spring that he's had since he's been here."
During his interview, Pat Fitzgerald said, "I don't know if we'll split carries, I think it'll be more situational. But like I said, I like their depth and where they're at so far."
Podcast: Play in new window | Download