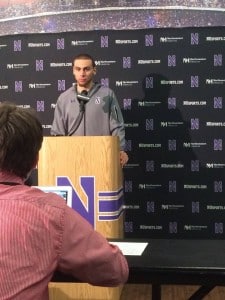 Sometimes, even great shooters struggle to find their shot.
Someone who could attest to that would be Northwestern head coach, Chris Collins, who was a terrific outside shooter at the high school and collegiate level (playing at Duke University). Collins also knows the best way to get back on track for a scorer is to get easy buckets, and that is exactly what Northwestern guard, Tre Demps, would do in Saturday's 75-55 blowout win over Northern Kentucky.
After another 0-2 start from downtown Saturday, Demps would find other ways to score and lead the Wildcats (9-4) to victory.
"Obviously for a guy like Tre who has struggled a little bit with his outside shot to get five or six layups, I thought that was key for him," Collins said after the game. "We did a really good job attacking the basket."
Freshman guard, Bryant McIntosh, would also have another impressive game, scoring 15 points while adding 5 rebounds and 4 assists. McIntosh has had to play outside of his game, focusing more on scoring rather than distributing the ball while guard, Jershon Cobb, has been on the shelf with an injury.
"I don't really think about that too much," McIntosh said. "I think you have to make the right play and I feel like sometimes our offense goes into walls and I have the ability to create a shot for myself or another person, and thats just something I was trying to do. I was watching film and seeing sometimes we have some long droughts and sometimes I am not aggressive enough."
The Wildcats were definitely aggressive on Saturday. Northern Kentucky (6-7) struggled to find scoring from anyone and would commit 11 turnovers to match only 11 assists. Northwestern held Northern Kentucky's leading scorer, Tayler Persons, to 5 points on 1-6 shooting from the field.
While it was a nice win for a young Northwestern squad, they know the real test begins December 30, when they travel to face new conference rival, Rutgers, in the Big Ten opener.
"I think they are going to have to experience it," Collins said. "The level of intensity is going to go up, the level of scouting is going to go up, because you have teams that know each other so well and the preparation is good and the coaches are so good in our conference that you really have to be sharp, you have to be disciplined, and for a young player that's a hard thing."
For the full Chris Collins post game presser click below
Podcast: Play in new window | Download