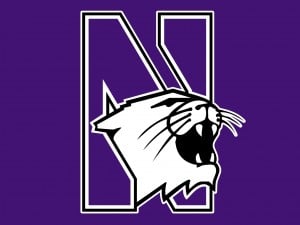 Enjoy waiting for football season while you can, because the year will just go by quickly, and then it's another eight months away. On September 5th, Northwestern is set to kick off their season with their first matchup against Stanford since 1994, which ended in a 41-41 tie.  This is their seventh matchup overall, and the Wildcats are 1-3-2 against the cardinals with their lone victory taking place in 1958. Last year, Northwestern opened the season with a 31-24 loss against another Pac-12 team, California. There are a lot of storylines that will be interesting to follow, ranging from the Wildcat's quarterback battle to recovery of two of their offense's most important players. Here is our Northwestern – Stanford preview.
The Quarterback Battle
Quarterback controversies are always interesting, because it's a battle of positions in between a battle of who's the better team. As if last year wasn't fun enough with the potential two quarterback system Northwestern, there's still no guarantee who will start this year. Trevor Siemian, who started 11 games last season, was taken in the seventh round of the draft by the Broncos. For now the top two contenders are senior Zack Oliver and sophomore Matt Alviti. Oliver started Northwestern's big game against Illinois last year, in which he completed 23 of 38 passes for 221 yards, one touchdown, and three interceptions in a 47-33 loss. "They've all got something to give to the team. When they make themselves better, we all get better." Christian Jones said. Head coach Pat Fitzgerald was hoping to have a decision made before training camp. Now the season opener is less than two weeks away and the Wildcats still don't know who their starter is. Both quarterbacks have the support of their teammates, and most players are indifferent. It is worth mentioning that with his experience, Oliver is most likely going to be named the starter, although nothing is official yet.
[jwplayer mediaid="19501″]
Injury update
Last year, Northwestern suffered two huge blows to their offense. Running back Venric Mark was suspended and eventually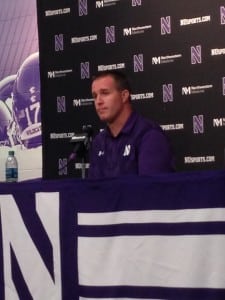 transferred, and wide receiver Christian Jones was lost for the season with a torn ACL. And this past summer, Mark's replacement Justin Jackson had surgery for a knee injury. Although Jackson seemed back to full strength at practice this past week, the offense was seen running plays with four or five different running backs. And this wasn't first-team or second-team reps, this was in between drills. "This year I'm in the training room all the time, just trying to stay healthy. Once you get those miles on you it's hard, so I'm just trying to stay healthy." Jackson said. Christian Jones however, was not in attendance as he had a class. "He's really well." Coach Pat Fitzgerald said about Jones. "He asked about my progression back on the field. I'm not going to go into every detail, it wasn't the physical hurdle it was the mental hurdle. And that's the last one to get over and I think he's close to that." This will be Jones's first game since 2013, the year in which he led Northwestern in receiving. He expressed that he is not experiencing any pressure to get back onto the field. "I wouldn't call it pressure, just expectations that I set on myself, and the position coaches set on me. I want myself to be great, and I want to be as good as I possibly can be." Jones said. "It's a lot of anxiety. It's been a year, but as soon as I start practicing, the sooner I get out there, it all becomes routine again."
[jwplayer mediaid="19500″]
Running back situation
When Venric Mark transferred last year, the Northwestern running game was in question. But the answer arose immediately. Freshman Justin Jackson bursted onto the scene with 1187 rushing yards and ten touchdowns. With a loaded backfield this year that includes Solomon Vault and Warren Long, Jackson has no expectations on whether he will receive more or less carries his sophomore year. "I'm expecting to go in there and do what the coaches tell me. I have no other expectations other than go out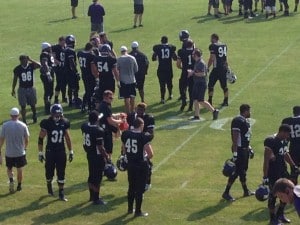 there and do my best every single play." Jackson commented. "We all have our own specialties. And we compliment each other really well, and it's gonna be hard for defenses to keep tabs on us because we're all different types of runners." Jackson wasn't the only one impressing his spectators, both Vault and Long were breaking through in training camp. With Treyvon Green being the only significant running back not to return this year, there is no real concern for the Wildcat's running game.
[jwplayer mediaid="19502″]