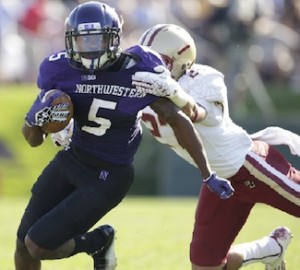 (EVANSTON, IL)  It wasn't a pretty spectacle Saturday.  The Wildcats, who had notched 65 points in its first two games this season didn't find the end zone until Mike Trumpy scampered 27 yards with 1:37 left in the entire game.
However, the Northwestern defense held it own versus the visiting Golden Eagles for the victory at Ryan Field.
Boston College was the first team to score a touchdown, yet that didn't happen until there was just under two minutes left in the first half.
Up until that point, it had been a field goal contest.
Coach Pat Fitzgerald's take on the offensive impotence, "Offensively, it was unbelievable as far as ball movement, keeping possession of the ball, great drives, converting on third down, but at the end of the day we've got to turn those three's into seven's and we've got to finish drives. A lot of those issues that we had were self-inflicted: either by drops or by penalties. Or not hitting guys who are open."
Jeff Budzien made the first of his five field goals midway through the first quarter on a 42-yarder.  Both teams seemed to move well, and then stall in the red zone. BC tied it up with their own 61-yard, 12 play drive.
Budzien added FG's from 20 and 29 yards out before BC got their TD on a 31 yard pass from Chase Rettig to receiver Jonathan Coleman. NU went into the two minute offense, but their drive stalled, and they settled for a 41-yard field goal and a 12-10 halftime lead, despite racking up 290 yards of total offense in the first two quarters
In the third quarter, instead of trading scores, the two squads exchanged fumbles.
NU took the ball all the way down inside the ten. Again, unable to punch it in, the Wildcats settled for their fifth FG of the game and a 15-10 lead.
So what did the Eagles do in response?  Drove from their own 20 to the NU 17, but a 3rd and 6 pass by Rettig fell incomplete.  Nate Freeze's 34-yarder, was the seventh kick through the uprights in this game.
NU once again headed downfield, but hit a roadblock at the thirty, after an apparent first down was negated by a holding penalty. BC responded with a drive of their own, aided by a more NU penalties, yet couldn't get past midfield.
Northwestern took over at own 13 with 8:26 left.
Moving up and down the field all day, does help you eat some clock, and the Wildcats chomped on five minutes before punting the ball away with 3:00 left, pinning BC inside the 5.
Boston College was unable to move the ball, and was forced to punt giving Northwestern excellent field position. They moved  the ball down to the 27, when Trumpy ran off tackle and suddenly discovered himself wide open and kept going until he hit the goal line.
In his post game radio interview Pat Fitzgerald commented that he would have preferred that the running back take a knee, since BC had no way to stop the clock, but chalked it up to the excitement of the moment.
Northwestern has one more non-conference game remaining, at home next week against South Dakota, before beginning Big Ten conference play.