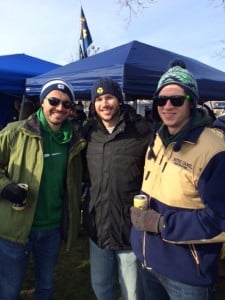 There are venues across the sports landscape that fans should visit, no matter what team banners hang on your wall at home. Notre Dame Stadium is one of those venues.
Yes… you might be packed into your row like sardines and are sitting on rock hard benches, but you should be there for the ambiance. It will only be once, so suck it up and soak in the history. From tailgating to the marching band, Notre Dame is a special place to watch a football game.
Speaking of a football game…
The Golden Domers did their best to give this game to the Wildcats, the 17 point favorites were not able to overcome some late mistakes to pull out the victory. Everett Golson got this score-fest off with a career long 61 yard TD run in the first minute of the game.
The Wildcats answered on their first drive when a 44 yard run by Justin Jackson set up Maine South alum, Matt Alviti, who scored on a QB dive for a 2 yard score.
Notre Dame returned a fumble recovery and then scored on their next possession on a Tarean Folston 6 yard run to put the Irish up 20 – 7. On the extra point, a play that is rarely seen at any level occurred, as Nick VanHoose blocked the attempt and returned it for the defensive PAT.
For those scoring at home, a defensive PAT return is worth 2 points.
I sincerely felt bad for Trevor Siemian during this game as his receivers decided to not show up. Tony Jones alone dropped 3 TD passes in the first half, all of which Siemian delivered a perfect pass that hit Jones in the hands. Despite the 1st half miscues, the Wildcats were sticking around as they were only trialing 27 – 23 going into half time.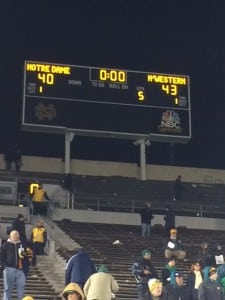 I should have bet the over.
Northwestern was not the only team committing errors throughout the game as Golson added a pick and fumble to his turnover total. Golson & Co. turnovers killed ND's chances of winning this game as the Wildcats were able to capitalize throughout the game.
The 4th got interesting late as a Jack Mitchell FG pulled the Wildcats within 5 points, 29 – 34. ND answered with a TD at the 10:34 mark as Golson hooked up with William Fuller on an 11 yard pass, Fullers' 3rd receiving TD of the game.
With ND up 11, the press box started to buzz as Coach Kelly decides to go for 2 instead of kicking the extra point. The attempt failed and NU is now a TD, 2-pt conversion and a FG away from tying this game up. Seems unlikely… right?
Wrong.
The Wildcats march 73 yards in 9 plays and 1:58 to score a TD on a Trevor Siemian 6 yard scramble. NU converts on the 2-pt conversion and are only down 3 with 4:10 left in the ball game.
The Irish were able to salt away some time with a 1st down, which forced NU to use all of their timeouts. On a 2nd and 8 play with just over 1:30 left, ND rushes the ball with Cam McDaniel and he is stripped by NU's Ibraheim Campbell and the ball is recovered by the Wildcats.
Siemian orchestrates a 9 play, 44 yard drive to set up Mitchell for the game tying 45 yards FG.
Overtime.
At this point, ND was rattled and quickly got to 4th down in OT when Kyle Brindza shanked his 42 yard FG.
Northwestern wasted no time with their OT opportunity by running the ball three straight times to set up Mitchell's 41 yard game winning attempt:
After the debacle last weekend against Michigan, Coach Pat Fitzgerald needed this win to calm down the nay-sayers… at least for more week.
Notre Dame is a special place for many of its visitors, count the Northwestern Football team as some of those visitors, who are now 2 – 0 in Notre Dame Stadium since 1995.
Brian Kelly's full post game press conference after 43 – 40 (OT) loss
For those of you wondering, Northwestern is NOT officially out of bowl contention.
Next Week: Northwestern (4-6) @ Perdue (3-7)
@WesEvans24
Podcast: Play in new window | Download