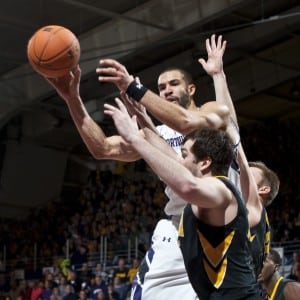 Northwestern came into Saturday's home matchup against Iowa on a high note after winning 3 of 4, including a double overtime thriller against Purdue, and an upset victory over then 23rd ranked Illinois.
However, the Wildcats just did not have enough depth to hang with the 10th ranked Hawkeye's, who beat them 76-50 Saturday afternoon in a rematch of the two teams' Jan. 9 game in Iowa City, in which the Hawkeyes won 93-67 after shooting 64.3 percent during the second half.
Northwestern looked good in the first half, despite never having the lead, by once again emphasizing tough defense to make up for their lack of scoring and depth. Iowa turned the ball over 10 times and star player, Roy Devyn Marble, was held scoreless for the first 20 minutes.
The Wildcats went into the half down only 30-24, behind 13 points from Senior Drew Crawford. The second half was a different story as they could not buy a bucket and started to show fatigue.
"I think that's why they won. I really do," Northwestern coach Chris Collins said. "Our guys were playing hard. That's what I'm saying. This wasn't like they played harder than us. Both teams played really hard. They're just better than us."
Point guard Dave Sobolewski made his return to the team after missing the last four games (concussion), but was unable to make a difference going scoreless in 10 minutes of action off the bench.
Crawford would finish with a game high 20 points on 8-17 shooting, but he only hit 3 field goals in the second half, when Iowa put the Wildcats away for good.
"Obviously Iowa's a tremendous team. Give them credit, but we didn't play our best, especially in the second half," Crawford said. "I think that's a team we're capable of competing with for 40 minutes and tonight we weren't able to do that."
Iowa was led by 14 second half points from leading scorer Roy Devyn Marble, and Gabriel Olaseni added a double double of  14 points and 10 rebounds for the Hawkeyes (16-4, 5-2), who avoided losing consecutive games for the first time this season after a tough loss to Michigan on Wednesday.
The Hawkeyes shot 51% from the field and 41% from three point range, while Northwestern (10-11) shot only 36% from the field and 20% from downtown.
"Our margin for error is slim," Collins said. "When we play a team this good we're going to have to shoot well and we're going to have to not turn over. We're going to have to hope they miss some shots that they normally hit."
Northwestern is now 10-11 on the year and 3-5 in the Big Ten. They travel to Wisconsin next Wednesday for a meeting with the 9th ranked Badgers.
Podcast: Play in new window | Download