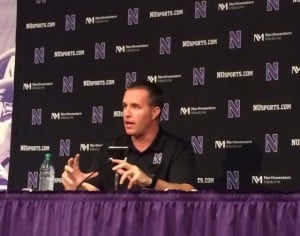 The Northwestern Wildcats football team addressed members of the media on Thursday to discuss the upcoming 2014 season. The main topic of discussion was concerning the potential obstacles up ahead and overcoming a forgettable 2013 season. After starting last year with a 4-0 record and securing the 16th rank in the nation, the Wildcats lost seven of their last eight games and failed to secure a spot in a bowl game.
The Running Back battle
One of the biggest questions facing the Wildcats' offense this year is the running back position. Last year, starting running back Venric Mark was sidelined due to a number of nagging leg and ankle injuries. He was held to just 31 carries in three games. Mark made a statement about the healing process in the off-season
"It was tough, but I have a good support system here at Northwestern to get through it." He added,  "I've never been hurt like that. It sidelined me for a whole season. In high school I managed to stay healthy all four years. It took a toll on me, both mentally as well as physically, but with the help of everyone around me, I felt like I had a good support system, I was able to come back in  a good fashion, I feel healthy right now and I think I'm ready to go."
In Mark's absence, the Wildcats running game turned to Treyvon Green, a studious running back returning for his senior year in 2014. Mark and Green are also joined by a number newly recruited Freshmen. When asked how he felt about the running back core as a whole, Mark responded, "We'll have to piggy back off of each other this year."
The Quarterback situation

While it's not uncommon to use two running backs depending on the scenario, a rare instance took place in 2013 in which the Wildcats used a two quarterback system. Northwestern rotated passers with Kain Colter and Trevor Siemian, which they didn't seem to mind. But now that Colter was signed by the Minnesota Vikings, Siemian has inherited the full time job.
"I got snaps my redshirt freshman year when Dan (Persa) was banged up a little bit." Siemian said. "So you know my role has sort of transformed over the years. And right now I'm at kind of being the guy and embracing the role, and taking it and running with it, do the best that I can, and I'm excited. Like I said, we got too much talent around me, so I'm excited to get the ball to these guys and get out of the way."
When asked when he would make an immediate impact, Siemian said, "Hopefully right away. I've been around a lot, I feel like the old guy. I've been doing it four and a half years. Hopefully, right away I feel comfortable, hopefully, we get it done this year, we've got a lot of talent, probably the most talented team I've been around."
Maintaining the Lead
A major problem surrounding the Wildcats during the 2013 season was keeping a lead through the whole game. The Wildcats held a 4th quarter lead or tie in four of their seven losses. Their worst loss probably came on November 2nd. Holding a three-point lead with 1:20 to go, the Nebraska Cornhuskers started on their own 17 yard line. As time expired, Nebraska completed a 49 yard Hail Mary pass in the end zone for the game winning score. That loss extended the Wildcats losing streak to five, and left a bitter memory the players won't forget.
"There were some close losses and a lot of people wanted to point towards the end of the game." Trevor Siemian said. "But in the span of those games, there were a handful of critical plays, and two years ago we made those plays. Last year we didn't. We're really working hard to focus on that and win those critical plays that determine the outcome of the game."
When asked how good they thought they were, Siemian responded, "I think one thing that we've been good at over the years is controlling the line of scrimmage and being physical in the trenches running the ball, and making it tough for defenses. That's what we're trying to do, and we're trying to get back to being able to finish."
"Like Trevor said, it's about getting back to what we do," co-captain and offensive lineman Brandon Vitabile said. "We gotta do a good job at the point of attack getting vertical push, controlling the line of scrimmage, and just being dominant. Some of that we've worked on, coach Fitz always talks about the fundamentals."
Listen to Press conference audio from QB Trevor Siemian, RB Venrick Mark,  Offensive Coordinator Mick McCall, and Head Coach Pat Fitzgerald
[jwplayer mediaid="13824″]