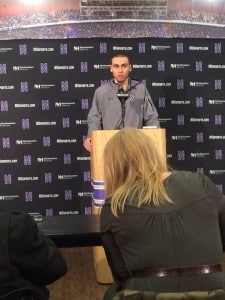 Northwestern came into Saturdays home matchup against Western Michigan looking to bounce back from an embarrassing 80-67 loss to Central Michigan on Thursday night. Even though things were looking shaky in the first half, head coach Chris Collins knew his team was ready for a fight.
" We have a really young team so you worry about how they are going to respond" Collins said after the game. " One of the things we wanted to get back to is the basics of what our program is about and that's fight, it's being tough and battling on every possession. I thought we did that today."
The Wildcats (7-4) had no choice but to battle back after a slow start left them trailing Western Michigan (6-4) 28-25 at halftime. Northwestern struggled to find scoring in the first half and shot an awful 2-11 from three point range, then in the second half guard Tre Demp's caught fire and took over.
Demp's would lead Northwestern with a game high 17 points on 6-15 shooting and provided the leadership his young teammates needed in the final twenty minutes of the game.
" All the credit goes to my teammates" Demps said after the game. " They continued to get me the ball even after the air ball to start the second half, they continue to trust me, saying in film sessions that they need me to shoot, just the confidence they give me is really good"
Freshman guard Bryant McIntosh would also find his game in the second half, where he scored 8 of his ten points and dished out four assists and center Alex Olah also came up big scoring eight points and grabbing 12 rebounds for Northwestern, who will host UIC at Welsh-Ryan-Arena on Monday at 12 pm.
Western Michigan struggled to find their shot all game. Northwestern held Connar Tava and guard David Brown to a combined 6-24 from the field and pressured the Broncos all day long. Tava entered the game averaging 16.2 points and 6.0 rebounds and was named MAC West Player of the Week after scoring 19 points against Pacific last week.
" We did a great job on their two best players" Collins said proudly after Saturdays win. " Brown is twenty-four years old, he is a 6th year senior thats playing guys out there that are 18, so when you play hard against grown men like that, against an NCAA opponent it's a really good win and something we needed."
The Wildcats will take as many wins as possible before beginning their tough Big Ten schedule December 30th at Rutgers.
click below for Chis Collins post game press confrence.

Podcast: Play in new window | Download