Wildcats struggle at home against Blue Devils
Northwestern running back Jeremy Larkin and wide receiver Flynn Nagel stole the show Saturday at Ryan Field, but it was not enough to lift the Wildcats past the Duke Blue Devils, losing by a score of 21-7.
Northwestern started the game strong, marching to the end zone all the way from their own 21, thanks in large part to a 40-yard run from Larkin. Two players later, Larkin punched it in to go ahead 7-0. That touchdown, however, would be the extent of Northwestern scoring for the day.
The Wildcats made life hard on themselves and opened the second quarter with back to back interceptions, one of which resulted in wide receiver Cameron Green being ejected for targeting on the return. On the very next play, with the game tied, Jones found Johnathan Lloyd in stride to score from 52 yards out to give Duke the momentum and take a touchdown lead.
"[Cornerback Greg Newsome II's] eyes were stuck on two which probably means his eyes were back in the backfield," coach Pat Fitzgerald said on the broken play. "He knows exactly what happened, gave up leverage. It's a cover-four beater. 10-yard hitch to occupy the safety, throw the post over the top."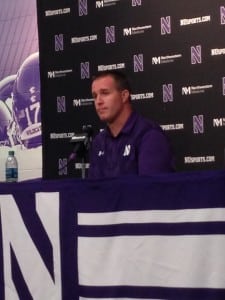 Both quarterbacks Clayton Thorson and T.J. Green struggled to get into much of a rhythm, largely because of the pressure they faced. The two were sacked a combined four times and faced pressure all day behind an offensive line that struggled to contain the Duke defensive front. "Offensive football, when the timing and rhythm is off, is just really ugly," Fitzgerald said. "It all starts up front. I'm not pinning the blame on the O-line but it looked like we had guys who just didn't perform very well today."
Northwestern moved the ball well, out gaining Duke's offense with 381 total offensive yards. Execution played a big factor, however, and it prevented the Wildcats from taking advantage of some chances. "We just got to finish drives," quarterback Clayton Thorson said postgame. "That's what it comes down to. We just got to win our one-on-one battles… Obviously, we had the ball a few times at the 50 and didn't take advantage of good field position."
There are certainly positives to take away for Northwestern. Running back Jeremy Larkin had an excellent day, reliably getting the Wildcats yards they needed it. He displayed great patience and vision to wait for the holes to open, then used his natural quickness to get through the hole and make a play. He finished his day with 24 carries for 124 yards and a touchdown. There were big questions about how the void left by Justin Jackson would be filled, but after two impressive rushing performances, Larkin appears ready to fill that immediately.
Though he didn't have any touchdowns, Flynn Nagel led the way for the Cats in receiving, hauling in 12 receptions for 133 yards. He was the go-to option for both Thorson and Green and garnered specific praise from Thorson, who said, "I think Flynn Nagel had an awesome game… getting separation all day, I think that was pretty good." Flynn played much bigger than his 5'11 frame would suggest and was a big reason why Northwestern was able to move the ball so effectively.
"For me personally, I think I did a good job of moving guys, you know, creating separation on man-to-man coverage," Nagel said postgame. "Just trying to get open for the quarterback and for the offense."
Despite what the score suggests, Northwestern played a sound game. Their execution must improve if they want to be players in the Big Ten, but they put themselves in position to put points on the board. They impressed last week against Purdue, which Fitzgerald discussed by saying, "A week ago [the offensive line] played outstanding. And so we got a little Jekyll and Hyde going on right now." If the Wildcats as a team can get the good part of that Jekyll and Hyde on a consistent basis, players like Larkin and Flynn, amongst many others, will make them a very difficult team to face.
Follow on Twitter: @crbevins11