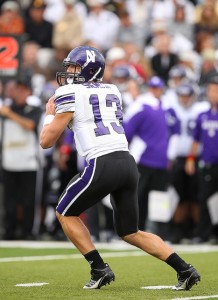 The pregame weather gave no indication that a torrential downpour was a few hours away.  The sky was autumn blue with patchy clouds. The only thing missing from the barbeques, adult beverages, and the kids playing catch were leaves on the ground.
In that mild evening air, the Vanderbilt Commodores kept the Northwestern Wildcats in check until just about the time the rains came.
At halftime Vandy had rung up three times as much total offense as their hosts, limited Northwestern to a single field goal and a 10-3 lead after thirty minutes.
That's when Pat Fitzgerald told his team, "We've got to throw the ball better, we got to catch the ball better, and we've got to execute better, if we want to win moving forward. " Afterwards, he noted, "That was probably my biggest disappointment, going into the half, the plays we had out there that we did not make."
Still, his defense held the Commodores to ten points, only three less than Syracuse tallied in the first half of last week's shootout at the Carrier Dome. It was in the third quarter of that game, that the defense suffered a major meltdown.
This time, however, it did not happen.  Vandy went scoreless in the third, adding only 67 yards to their offensive output.
The fourth quarter was an entirely different story for Northwestern. The defense held Vandy to a three and out, then the offense went on an eleven play, 86-yard drive for their first touchdown of the game. The two teams then traded field goals.
A key play for the Wildcats occurred when super sub Trevor Siemian tossed a 34 yard pass to Rashad Lawrence down to the 22 yard line.  Lawrence appeared to fumble the ball, or drop the pass.  There was lengthy delay, while officials reviewed the play before ultimately concluding that the catch would stand.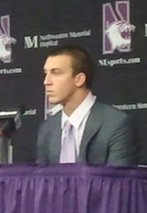 When asked after the game Siemian commented,  "I didn't think he held on to it.  To be honest with you, then it kind of took a while and I thought maybe they were going to swing it our way. But credit to Rashad, cause he made a heck of a catch, and it was starting to rain too. For him to be able to stick that one, it was huge for us.  He said he caught it, he didn't know how many steps he had."
Indeed it was a big play, and about that same time, the skies unloaded a thick blanket of rain, that drove all but the heartiest of souls, and there were more than a few, into the stadium to seek shelter, while some continued towards the exits.
A forced fumble on the Commodores next possession led to a Kain Coulter 29-yard scramble into the end zone to stretch the lead to 23-13, and when Vandy QB Jordan Rogers threw four straight incomplete passes, the Commodores' ship was capsized.
Pat Fitzgerald had praise for his defensive corps.  "I thought our defense gave us a chance to stay in the ball game," he said. "I thought we played very well, very sound. We kept the ball inside and in front. We got good pressure on the quarterback, and affected him. There's no question about that, and he's a heck of a football player. But the defense today allowed us to stay in the game." Looking forward, Fitzgerald notes, "our offense has to pick it up. We have to be more efficient in the first half than we were this week."
Fitzgerald compared his come from behind win today, to last week's game, where his team lost a large lead before making another comeback effort. "We played very well for about three quarters of that game," he said. "The fifteen-play drive [by Syracuse late in the fourth quarter] in that environment took the wind out of our sails. We were gassed. And we needed our offense to pick us up and we didn't play very good as a team a week ago.  Then once we got a drive, we found a way to win."
This team did not pad its schedule with "cupcakes" as Dick Vitale might say. Another good test awaits this team next week as ACC member Boston College comes to Evanston.
Listen to NU coach Pat Fitzgerald
[jwplayer mediaid="5778″]
Listen to players Quinn Williams and Trevor Siemian
[jwplayer mediaid="5787″]