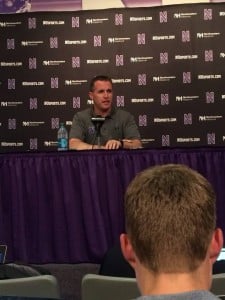 The Northwestern Wildcats may have the title of "Chicago's Big Ten Team", however, it is the Northern Illinois Huskies who are the -winningest- team in the state, as well as the Mid American Conference over the last decade.
On Saturday, the two schools located roughly 70 miles from one another, met for the first time since the 2005 season. The Wildcats entered Saturday's matchup unbeaten against the Huskies with six victories and one tie in 1987. Northwestern was also carrying a 10-game win streak against MAC opponents, however some things change.
Drew Hare threw two touchdowns and ran another to lead NIU past the Wildcats 23-15 at Ryan Field on Saturday, much to the delight of the in state fans who made the trip to cheer on the 2013 MAC champions.
The Huskies (2-0) used all three of their quarterbacks Saturday, but managed to save the best for last. Hare entered the game in the second half and immediately made an impact. He would connect on six of 10 passes for 109 yards, including two touchdown passes to wide reciever Da'Ron Brown, ( six receptions for 128 yards). Hare would also rush for 31 yards and a touchdown.
NU (0-2) struggled offensively throughout the game. Trevor Siemian finished 27 of 41 for 268 yards, a touchdown, and an interception, despite having little pass protection all day. Siemian would leave with an injury late in the fourth quarter.
One bright spot for NU was Kyle Prater who caught his first collegiate touchdown. Prater spoke after the game about what this football team means to him.
"We overcame a lot in the offseason," Prater said. "We are a family and we still feel that way. We still have that bond, and were just going to keep moving on. We are just getting hit with some adversity right now, and its nothing we can't overcome"
Whether the Wildcats will be able to overcome this awful start is yet to be seen, one thing is we know for sure is that the Northern Illinois Huskies are "Illinois' football team".
Click Below for head coach Pat Fitzgerald's post game audio
Podcast: Play in new window | Download