Two of the worst possible nightmares to occur for the Northwestern offense happened on the same day. A week after announcing he was going to be suspended for the first two games of the 2014 season, Northwestern running back Venric Mark announced he intends to transfer schools. And wide receiver Christian Jones is lost for the season after suffering a knee injury in practice.
Shocking to say the least. Mark's decision came the day after saying in an interview, "I'm going to embrace this. My teammates have given me great support. I'm just doing what I can to make sure the other guys are ready." He also commented on the upcoming season, "I fully expect us to be 2-0 before I get back." Unfortunately for his teammates, he's not coming back.
Venric Mark discusses suspension, role in upcoming season.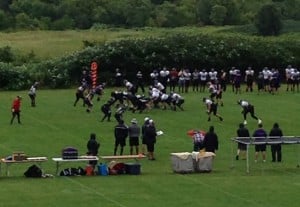 Mark was granted a fifth year of football eligibility by the NCAA after missing most of the 2013 season with an ankle injury. Although no definite decision has been made, Mark has stated that he intends to transfer to a school closer to his hometown of Houston.
Northwestern's running corps has not been a major concern. Freshmen Justin Jackson and Solomon Vault have impressed during training camp and captured the attention of their coaches. "I've been extremely pleased with the way they've picked up this offense." Said running back coach Matt MacPherson. "I like them. I like them a lot." added Pat Fitzgerald. Last year, Treyvon Green led the team with 736 rushing yards, and was expected to be the starter during Mark's absence. It's possible he'll remain the starter for the whole year.
No specific details were given on the exact condition of Christian Jones, all that is known is that he suffered a knee injury during practice. The bright side is that as a senior, he is eligible to redshirt and play for the Wildcats in 2015. Last year, Jones led Northwestern with 668 yards receiving.
Podcast: Play in new window | Download