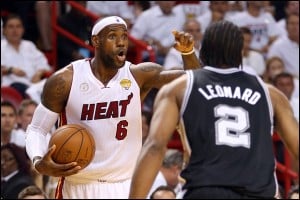 This week, I am unveiling the eleven questions whose answers will shape the upcoming NBA season. Here are questions 6-11.
Click here to view part one of this article.
6. Who will have the ball at the end of games for the Nets?
Nets owner Mikhail Prokhorov wants a championship and is willing to dip deep into his own pockets to get one. The Nets are reportedly around $30 million over the salary cap and will pay nearly $90 million in luxury tax penalties this season. The Nets tax is astronomically high due in part to several roster moves they made this summer, including a trade with the Celtics that brought back Kevin Garnett, Paul Pierce and Jason Terry. In addition, the Nets signed Andrei Kirilenko to a mini mid-level exception deal. The Nets  veteran roster is loaded with talent, but it also features a handful of players who like to have the ball in their hands at the end of close games. Last season, Joe Johnson and Deron Williams both liked to isolate in these scenarios. Paul Pierce is another player who likes to take the last shot, often pulling up for a jumper from the right elbow in the closing moments. It will be up to first year Coach Jason Kidd to diagram late game offensive sets that take advantage of his roster"s propensity to make clutch shots. Look for Kidd to put the ball in Williams" hands while utilizing Garnett"s ability to set effective (and often illegal) screens off the ball to free up Johnson and Pierce for open shots.
7. Can the Clippers win a title with Blake Griffin and DeAndre Jordan as their starting frontcourt?
The addition of Doc Rivers as Head Coach has brought a sense of legitimacy to the Clippers title chances. While Rivers is certainly an upgrade over Vinny Del Negro, the Clippers face glaring problems in their frontcourt that could keep the team from advancing deep in the playoffs. The Clippers frontcourt of Blake Griffin and DeAndre Jordan will certainly produce a number of highlight dunks this season due to their freakish athleticism. However, the two have not utilized their athleticism to become dominant all-around players. Both Griffin and Jordan average under 8.5 rebounds per game, with Griffin"s rebounding totals having dropped each of his three seasons in the NBA. Defensively, Jordan struggles on pick-and-rolls while Griffin has failed to average a single block per game in any season.
On the offensive end, Griffin and Jordan are limited outside of plays at the rim. Jordan"s offensive game is non-existent, as he attempts under 1.5 shots per game outside of three feet. Griffin"s lack of offensive growth is especially frustrating. Teams consistently sag off defensively and allow Griffin to shoot from mid-range. To this point, Griffin has been unable to develop a consistent shot, shooting just 34% on shots further than fifteen feet, . Finally, both Griffin and Jordan struggle mightily from the foul line, shooting 66% and 38.6% respectively. These frighteningly low numbers make playing the two in close games difficult as opposing teams are comfortable fouling either one. Griffin and Jordan will have to make major strides in every facet of the game in order for the Clippers to compete for the title.
8. Who will most blatantly tank this season?
One could argue that the 76ers have already sealed up this contest. Philadelphia traded away its best player in Jrue Holiday, and decided to wait until August to hire its head coach. However, teams like the Jazz and Suns have refused to make it easy for the Sixers, constructing teams that will battle for the league"s worst record. These teams are looking to be bad, really bad, in order to lockup a top pick in next year"s draft. The talent in the upcoming draft has been well documented, with potential stars such as Andrew Wiggins, Julius Randle, Dante Exum, and Jabari Parker likely to enter the NBA. Wiggins is considered the number one player and has been discussed as the best prospect since LeBron James. Watching YouTube videos of the Canadian prodigy reveals why. The worst place to be as an NBA franchise is consistently hovering around .500. Tanking a season to land a top pick, especially in the upcoming draft, is the best way to turn around a franchise. Consequently, we could see plenty of random "injuries" for players on struggling teams this season. It will be enjoyable to check the standings each week to see which team is winning the battle for inferiority.
9. How will injured stars look in their return?
Injuries are a part of every season. However, there seemed to be more injuries to star players last season than in recent years. The list of injured players reads like an All-NBA Team: Bryant, Rondo, Love, Westbrook, Rose (technically injured two seasons ago, but missed all of last year), Granger, and Bynum just to name a few. All of these injuries had a significant effect on their respective teams, but Rose and Westbrook appeared to be the biggest losses. Both the Bulls and Thunder were positioned to compete for an NBA championship. While both teams battled, they were each unable to overcome the absence of their star point guards. Rose has had the longest recovery period out of the players mentioned above and is seemingly back and better than ever. On the other hand, Westbrook will likely miss the first six weeks of the season as he recovers from knee surgery. How these fallen stars return from injury will have a definite impact on the NBA landscape.
10. How big is the gap between LeBron James and Kevin Durant?
LeBron James is the best basketball player in the world. Over the last two years, James has won two NBA championships, two Finals MVPs, two regular season MVPs and a Gold Medal. There is no room for argument on the issue. What can be argued is how big the gap is between James and the league"s second best player, Kevin Durant. While LeBron dominated the NBA last season, Durant became just the sixth player in league history to post a 50-40-90 season (shooting 50% from the field, 40% from three, and 90% from the foul line). In addition, Durant made significant strides as a distributer, increasing his assist totals from 3.5 in 2011-12 to 4.7 in 2013-14, . Durant also developed defensively, using his increased strength and supernatural length to improve as both a one-on-one and help defender. James is four years Durant"s senior and is considered at the peak of his powers. However, if Durant continues to add to his game offensively and defensively, the gap between the two may begin to narrow. While Durant may not surpass James as the NBA"s best player this upcoming season, he may very well take that moniker within the next few years. Not only will the battle between the two for league dominance be a treat for basketball fans, but it will also likely shape the future of the NBA.
11. Can anyone beat the Miami Heat in a seven game series?
Over the past three seasons, the Heat have lost one playoff series. That series loss resulted from LeBron James shrinking in big moments. That problem appears to be a thing of the past and the Miami Heat come into this season as overwhelming favorites to three-peat as NBA champions. The biggest question facing the Heat is health. Their rotation is made up of veteran players who have logged some serious mileage including Ray Allen, Shane Battier, and Chris Andersen. Moreover, Dwyane Wade"s knee issues seem to be a problem that will plague him the rest of his career. In the offseason, the Heat made some minor adjustments to their roster. The additions of Michael Beasley and Greg Oden are low-risk, high-reward signings that could provide a spark to this Heat team. If healthy, Oden adds size that Miami will use to match up  against teams like Indiana and Chicago.
The Heat will likely coast through the regular season, limiting the Big Three's minutes and resting older players like Allen and Battier. Miami has nothing to prove in the regular season and the thought of a 27-game win streak seems farfetched. The East will be a top heavy conference this year, with Indiana, Chicago and Brooklyn likely to emerge as legitimate threats to the Heat"s reign. These teams will each have to prove that they have overcome issues that have prevented them from beating Miami in the past. The Bulls will need a consistent secondary offensive option outside of Derrick Rose to emerge. The Pacers will need improved bench play and continued growth from Paul George. The Nets, while showcasing a new look roster, will need to remain healthy and learn to play with one another. If these teams can do this, they have a chance. Still, it remains difficult to imagine a team beating Miami four times in seven games. Not with their experience, not with their defense, and not with LeBron James leading the way.