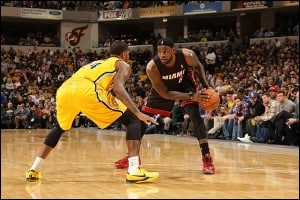 As we say goodbye to 2013 and hello to 2014, it is tradition to begin to think about our goals and aspirations for the New Year. We often formulate a list of resolutions, a plan of attack, for the upcoming year. I decided to team up with my good friend and fellow NBA addict Nolan Block to find what each NBA team's top New Year's resolution will be. In Part 1, we will look at the Eastern Conference from the bottom of the standings to the top.
Milwaukee Bucks- Lose at All Costs
Kevin– Despite widespread disdain for this approach, tanking is the best way to turn around a franchise's fortunes. Milwaukee currently holds the worst record in the league at 6-23. They are statistically the worst offensive team in the league, scoring 95.8 points per 100 possessions, per NBA.com. What's more, they are flat out painful to watch. Unlike a lot of other teams in the "tank zone," Milwaukee looks like they are trying, they just don't have the pieces to get wins. Wouldn't their best bet be to tank and hopefully land a franchise changing player in the upcoming draft? How much more interesting would the Bucks be if they could pair Jabari Parker or Andrew Wiggins with the Greek Freak?
Nolan
– I agree, tanking is the only possible approach for Milwaukee especially coming off of that horrendous trade at the tail end of last season to acquire J.J. Reddick. The Bucks really need to start playing their young guys.  Giannis Antetokounmpo looks like the steal of last years draft but just needs more minutes to get acclimated to the NBA game. Another piece I really like in Milwaukee is John Henson.  He has shown flashes that make him look like a potential star in this league at a position that just doesn't have many. Pairing a dynamic SF from the draft with these two could be lethal.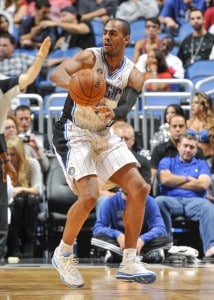 Orlando Magic- Work on the Core
Nolan
– One of the few cellar dwelling teams that has no immediate cause to tank is the Orlando Magic.  Sure, by tanking they will have a better chance at a top pick, but that's all it is, a chance.  Besides, Orlando has a wealth of talent on their own roster.  Orlando is a young team with a plethora of talent at almost every position.  Between Tobias Harris and Nikola Vucevic down low and Victor Oladipo and Mo Harkless on the wings, the Magic have a solid core for the future.  The only thing missing is a floor general to make the operation run smooth.  The best point guard in the draft is Marcus Smart (who people seem to be forgetting about with this freshman class) and he may be available around the tenth selection in the draft.  Orlando has no need to tank and must continue to try and develop their young talent while competing for wins every night.
Kevin
– I love the pieces Orlando has and I agree that a point guard like Smart or maybe even Dante Exum would take them to the next level. The one thing I wonder about with Orlando is if they could flip Arron Afflalo for a young big. Afflalo is having an awesome season (21 ppg, 4.6 rpg, 3.9 apg) and I think that selling high could net them a talented frontcourt player while creating more time for Oladipo, Harkless and Harris to play together.
Philadelphia 76ers- Let Michael Carter-Williams Take Control of the Team
Kevin
– I was way off on MCW as pro. When I watched him at Syracuse, I saw a player that couldn't shoot and wasn't a great athlete. To my surprise, Carter-Williams has been dynamite in his rookie season. He is averaging 17.6 points, 5.5 rebounds and 7.8 assists per game. He has also posted a true shooting percentage of 49.5%, per NBA.com. I love MCW's game and I think Philly should run their offense through him and let him grow. Also, Philly is in a prime position to make moves. They could potentially move Spencer Hawes, Thaddeous Young and Evan Turner if they want to keep acquiring draft picks and future assets.
Nolan
– Michael Carter Williams could add me to his list of doubters as well.  I did not see this coming. He is playing brilliantly for any point guard let alone a rookie.  That being said, I'm not sure if GM Sam Hinkie deserves an award or deserves to be fired.  Trading his All-Star point guard for uncertainty in MCW was a bold move that turned out very well for the Sixers so far, but what about using the sixth overall pick in the draft for Nerlens Noel?  Historically, drafting an injured big man has left many teams in a sizable whole in their futures.  How will Nerlens Noel pan out once he returns from injury?  That is the question of the future for the 76ers.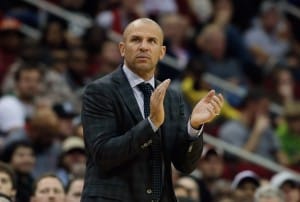 Brooklyn- The Experiment Failed, Blow it Up
Nolan
– The aging superstar, young head coach approach has backfired in Brooklyn.  Not only is Jason Kidd's hiring proving to be historically bad, but the Nets veteran core has been equally awful. The experiment of pairing Pierce, Garnett, Williams, Johnson, and Lopez together has failed miserably. The Nets are old, slow, and look extremely tired.  Did I mention they look old?  The Nets seemingly don't have draft picks until 2086, eliminating the option of rebuilding through the draft.  They need to trade anybody they can for some picks and young talent.  Deron Williams could possibly still command a quality return and although Brook Lopez has broken his foot yet again, there has to be someone out there willing to take a chance on him.  Brooklyn is in a gigantic hole and there doesn't seem to be much of a ladder to climb out.
Kevin
– The Nets are terrible. Sitting through their game against the Bulls on Christmas made me physically ill. I like the idea of trading Deron Williams. What about this: D-Will and Mirza Teletovic for Omer Asik, Jeremy Lin and two future first round picks? The salaries match-up, Brooklyn would shake up its roster and get picks, and Houston would get a really good (when healthy) guard and a stretch four that they could pair with Dwight Howard. I like the trade. Make it happen, Brooklyn.
New York Knicks– Accept Reality
Kevin
– As I have
written in the past
, the Knicks are an absolute mess. Through selfish play, poor coaching and a slew of injuries, they have limped to a 9-20 record. Still, they find themselves just 3 games out of the playoffs. Even if things break well for the Knicks and they make the playoffs, they have no chance of putting together a deep postseason run. What is important now is to remain calm and avoid making a panic trade. Unfortunately, Knicks Owner James Dolan is just the man to make such a move. While he has stated that
no trades or coaching changes will be made in the immediate future
, it's hard to believe him. Watch for Dolan to make a trade that will make the Knicks marginally better this season while making the future even more bleak than it already is. Smart GM's across the league will target Dolan to dump their overpaid veterans in return for future picks and young talent (i.e. Iman Shumpert).
Nolan
– I can't decide if the Knicks or Nets are in worse shape. The Knicks play no defense and have no offensive firepower outside of Melo. How is this the same roster from last year? Am I missing something? What's worse for Knicks fans is that they have no hope for the future. Kevin Love is not going there. Rajon Rondo is not going there. LeBron James is CERTAINLY not going there. In my opinion, Melo is as good as gone.  Why would he stay? Think about all the assets they traded to the Nuggets for him! You're right, it is a mess. Simply put, the Knicks are doomed for the foreseeable future.
Cleveland Cavaliers- Get Someone to Step Up as a Leader
Nolan
– The pieces are there.  A veteran, defense-first coach is in place. An aggressive GM that is willing to make moves  runs the team. They have a young star in Kyrie Irving. So what the heck is wrong with the Cavs?  On paper, Cleveland looks like a top four or five seed in the East.  I thought taking a flyer on Andrew Bynum was genius and he is slowing rounding back into the player we saw in a purple and gold uniform.  Kyrie Irving will only continue to improve and I am not ready to give up on Anthony Bennett despite his historically awful start to his rookie season.  That being said, this team is severely lacking veteran leadership.  With guys playing uninspired basketball and Dion Waiters trying to punch out every guy wearing the same color jersey, this team has major chemistry issues.  The Cavs are going to need some outside help and I believe that could come in the form of All-Star swingman Luol Deng.  Giving up Waiters, who wants out already, and Varejo for Deng could be a move that vaults the Cavs into the playoff picture.  The only thing to consider would be if they could re-sign Deng in the offseason. Waiters is far too talented to give up for a half season rental when your team has no shot of a title, so locking up Deng is a must.
Kevin
– I thought Cleveland was going to win around 45 games this season. I am subsequently working to delete that part of my preview article. Obviously, Mike Brown's defensive message hasn't gotten across to the team, especially to Irving who doesn't even pretend to play defense. Moreover, they are terrible offensively. Cleveland scores 97.7 points per 100 possessions, tied with Utah for fourth worst in the league, per NBA.com. I like the pieces, but it just doesn't seem like they make sense together. I think  the Deng trade makes sense and I would be willingly to move Waiters after his recent character issues.
Note: Despite having a better record than Chicago, Boston will be covered next. Nolan loves the Bulls and addressing their issues will be somewhat therapeutic for him.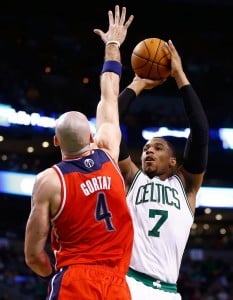 Boston Celtics- Be Patient
Kevin
– Boston is currently eighth in the East with a record of 12-17. They have played relatively well despite Rajon Rondo having not played a single minute yet this season. Rondo has
begun practicing
with the team again and is currently working on building up his stamina for game action. If he is able to come back at some point over the next three weeks, Boston could find itself as the fourth seed in the East come playoff time. Celtics fans can thank new Head Coach Brad Stevens for keeping the team in the hunt without Rondo. Stevens has the Celtics looking like the Butler teams he coached in college. Despite having inferior talent, he has carved out specific roles for players like Jared Sullinger and Jordan Crawford that have allowed them to play efficiently and effectively. The Celtics should keep their roster intact and see what happens when Rondo returns. I think Brad Stevens is a special coach and I wouldn't be shocked if Boston's rebuild came together much faster than people thought. Are you as high on Stevens as I am?
Nolan
– With the young pieces the Celtics currently have, I am absolutely as high on Coach Stevens as you are.  He has done a tremendous job while coaching the collection of players nobody else in the league wanted.  I think Jared Sullinger has the stuff to be the real deal at this level.  His improved three point stroke combined with his nose for the ball make him a star in the making.  Boston needs to continue to develop the young talent they have and draft well in near future with the picks they have stocked these next couple of years.  One thing that shows me what Brad Stevens means to this organization; he has Jordan Crawford playing point guard and passing the ball. Passing the ball, I said.  I guess anything is possible, Mr. Garnett.
Chicago Bulls- Decide on Your Future Sooner Rather than Later
Nolan
– Another year, another crushing heartbreak for a loyal Bulls fan.  I'm not sure how much more my basketball heart can endure.  With Derrick Rose sidelined for another season, Jimmy Butler missing games left and right, Luol Deng playing injured every game, and an overall lack of depth, the Bulls season is all but over.  It is time to start planning for the future.  Recent reports have said the Bulls are
not going to trade Luol Deng
, but I believe that would be a gigantic, franchise-crippling mistake.  Deng is a terrific player, he's just not the guy the Bulls need anymore.  He is playing very well when he actually plays and now would be an opportune time to move him.  Also, the Bulls need to attract Spanish stud Nikola Mirotic over this summer at all costs.  The franchise needs some hope and that is exactly what he can bring  at the stretch four spot.  Mirotic, coupled with our own lottery draft choice (fingers crossed they miss the playoffs), and a possible first rounder courtesy of the Charlotte Bobcats could yield phenomenal returns in the future.  A decision must come soon for the future of the beloved franchise.
Side note here: the Bulls had the worst chance of winning the lottery the year Derrick Rose came out of college and they won it.  Rose hails from Chicago and went to Simeon Career Academy. If the season were to end now, Chicago would not be a favorite to win the lottery.  However, Jabari Parker, current Duke freshman phenom hails from Chicago and attended Simeon Career Academy.  I'm just saying.
Kevin
– So you're saying there's a chance?!? The Bulls need to land someone like Parker. The current core has seemingly run its course in Chicago and an infusion of new talent through Mirotic and the draft would be a welcome change. It makes me sad to watch the Bulls play this. They work so damn hard but you can tell deep down they know they can't win. I'm also interested to see what happens with Thibs. His relationship with the front office has never been great and there are
plenty of rumblings
about him finding a new team to scream at next season.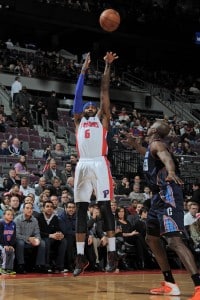 Detroit Pistons- Explore the Space
Kevin
– Detroit took a chance this offseason by bucking the league trend of going small and instead putting together a frontcourt of Josh Smith, Greg Monroe and Andre Drummond. That approach has proved flawed in several areas. Detroit ranks in the bottom half of the league defensively and they are unable to space the floor offensively. Detroit has the second worst three-point shooting percentage in the league at 32.1%, per NBA.com. Thus, teams can pack the lane and totally clog Detroit's offensive flow. This is especially damaging to players like Brandon Jennings and Smith who rely on drives to the basket for their success. If I'm Joe Dumars, I'm looking to move one of my bigs to get a shooter. Luckily, I have found the perfect trade! I would flip Greg Monroe and Kyle Singler for Arron Afflalo. The trade would benefit both teams with Orlando getting a young, talented big and Detroit getting a good shooter and creator. How am I not running an NBA team yet, Nol?
Nolan
– I don't like how Detroit plays. The Josh Smith signing wasn't horrible in my opinion. What was horrible was trading for Brandon Jennings after that. A notorious chucker paired with another notorious chucker? That just doesn't seem like a recipe for success. I love the Drummond/Monroe pairing and even though they just signed him, I think trading Josh Smith would be very beneficial for them. To me, trading Monroe to the Magic for Afflalo makes sense for the Pistons, however, the Magic don't make that trade because  Monroe will be a restricted free agent this offseason and the Magic are not in the business of taking on rentals at this point.
Washington Wizards- Gain Some Playoff Experience
Nolan
– The Washington Wizards are young. The Washington Wizards are explosive. The Washington Wizards are inexperienced.  The lack of experience on the Wiz is glaring. This team needs to get to the playoffs this year. They look like a fringe playoff team this season and if they want to compete in upcoming years, this is the year to gain some playoff experience. John Wall has been playing out of his mind this year. This is the kind of play one would expect from a number one overall pick. The backcourt of Wall and Beal will be a force to be reckoned with for years to come. After this season, Gilbert Arenas' max deal finally comes off the books. Washington will have some cap space to go after a big that can play with these young guns. As I mentioned, Monroe is a restricted free agent and played at Georgetown which is located in Washington, D.C. The Wiz should roll out the red carpet for Monroe and bring him back home.
Kevin

– I completely agree. I also wonder if they might be able to put a scare in a team in the first round of the playoffs. As long as they finish sixth or higher, I don't see them as a big underdog to anyone. God, writing that sentence just made me realize how bad the East is this year. I like how they are progressing defensively, especially Wall who has no reason not to be a perimeter stopper. Hopefully,
Brad Beal's knee injury
won't be too serious and their exciting backcourt will be able to play the entire season together.
Toronto Raptors- Just Stop Winning
Nolan
– I am baffled by the Raptors. I know NBA players are professionals and are paid to try and win games, but come on. How much more perfect of a scenario do they need? A bad roster, a chance at a top pick, and Andrew Wiggins (who hails from Toronto people!) is going to be a top three pick in the draft. Stop winning games. Management is trying to make you lose. They traded one of their best players for next to nothing and management has said that nobody but young big man Jonas Valanciunas is untouchable in a trade. The Raptors need to call a team meeting and make their players stop playing so hard.  I hate saying that, but I think that is the only way they have a chance at a rebuild.
Kevin
– Classic example of a team being hurt by being average. There is no reason for Toronto to be good. I'm sure GM Masai Ujiri is going to keep working on shedding Kyle Lowry and anyone else he has to to make Toronto bottom out. He is one of the smartest GM's in the league and he knows that the best way to improve is through landing a top pick in the draft. If Wiggins goes to Toronto in the draft, I think the corpse of Steve Nash should automatically be traded to Toronto to revive basketball in Canada.
Charlotte Bobcats- Find a Way Not to Screw This Up
Kevin
– Could it be that Charlotte has finally become a competent basketball team? They are currently 14-16 and holding the fifth seed in the East. Yes, the East is atrocious this season, but seriously, Charlotte is hovering around .500 and we're past Christmas? Charlotte has relied on its defense to win games this season. They allow just 98.1 points per 100 possessions, good enough for third-best in the entire league, per NBA.com. That's right, Al Jefferson is a member of the league's third best defensive team. Like so many teams, Charlotte has to stay committed to the future. They need to avoid making stupid trades that will benefit them this season while hurting their future prospects. Keep this team together, add a few complimentary pieces, and see where the chips fall. Fortunately for Charlotte, Michael Jordan is running the show and is unlikely to make any
dumb decisions
. Plus, you have to factor in how much better the team will play when they switch their name
back to the Hornets
.
Nolan
– Michael Jordan has taken a ton of heat for what he has done in his time with the Bobbies.  However, it seems as though some of the players he has reached for are starting to pan out.  The Al Jefferson signing looks genius.  The Kemba Walker pick looks like a steal.  I love Jeff Taylor and it is a shame that he is on the shelf for the rest of the season.  Kemba Walker is turning into one of the best scoring point guards in the league and reminds me of a young Allen Iverson.  It will be very interesting to see if Kidd-Gilchrist can develop into the player everybody imagined him being and if Cody Zeller can overcome the "Zeller Curse" and actually turn into a productive NBA big man, unlike the rest of the family.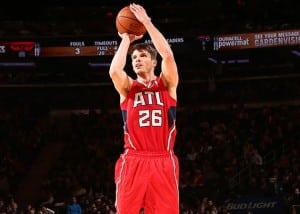 Atlanta Hawks- Prepare for Mediocrity
Kevin
– The Al Horford injury is a killer. Atlanta had been playing really well recently, going 7-3 over their last ten games. Atlanta seemingly had the third seed in the East wrapped up before Hoford went down. The Hawks thrived when Horford, Millsap, Teague and Korver were on the floor together, outscoring their opponents by 52 points, per NBA.com. Unfortunately, the Horford injury will bring Atlanta back to the pack. They should continue to be encouraged by Jeff Teague's growth as well as Head Coach Mike Budenholzer's creative use of Kyle Korver in offensive sets. If Horford is able to stay healthy next season, Atlanta will be an interesting team in the East.
Nolan
– This Atlanta team has a lot of grit. It is unlike the Atlanta teams of old that always fold under pressure. You always hate to see a guy like Horford go out for an extended period of time, especially with the way he had been playing. This could, however, make the Hawks better in the long run. Let's be honest, nobody is going to challenge the Pacers and Heat this year. The Hawks can continue to gel and develop some guys this season now and they have the option of swapping draft choices with the Nets, which looks more and more like it will be a top five pick. Watch out for the Hawks down the road folks.
Indiana Pacers- Prove You Belong
Nolan
– They are the King's jesters. A young team on the rise looking for some respect. Respect is earned in May and June, not November and December, Mr. George. Indiana plays with a lot of fire in the regular season. In my opinion, too much fire. What have they done to act like they do on the court? The best record so far this season? No, they don't even have that. Whatever happened to just going out and playing basketball? Indiana either showboats while destroying mediocre teams, or pouts and makes excuses after losing to quality opponents. Indiana will not beat the Heat in the playoffs.  It just won't happen. Roy Hibbert is not an elite big man.  Lance Stephenson is a glorified J.R. Smith. For as good as Paul George is, he isn't LeBron, nor will he ever be. Indiana needs to look in the mirror, reevaluate themselves and go from there. The current recipe cannot work against teams like the Heat, Thunder, or Spurs. I expect the Pacers to remain jesters in the King's court for as long as he reins in Miami.
Kevin

– Well jeez. I'm a little higher on the Pacers than you are, specifically Hibbert. When he stays out of foul trouble, he gives Miami absolute fits. He is one of the few players in the league that makes LeBron alter his game. Their cockiness is annoying, but I think they need an "us versus the world" mindset in order to compete. I think that chip on their shoulder drives them and I feel as if Coach Frank Vogel knows exactly how to push their buttons. I believe they can and will give Miami a hell of a series. Which leads me too…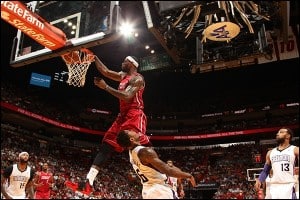 Miami Heat- Focus on Health
Kevin
– Miami has to feel like a soldier in the middle of a minefield. Everyone around them is dropping: Rose, Westbrook, Kobe, Horford, Lopez, the list goes on. The Heat have remained relatively healthy this season outside of a few games missed by Ray Allen and Birdman. Miami has also been extremely cautious with Dwyane Wade, resting him frequently throughout the season due to his past knee issues. The rest appears to be working, as Wade has looked explosive this season in the games he does play in. The Heat's primary focus should be staying healthy for the playoffs. More specifically, they will need to keep everyone healthy for their inevitable showdown with the Pacers. The teams have traded blows in their first two regular season match-ups, each winning a game on their home floor. Is it possible to simulate the season until that point? Nevertheless, I would imagine the Heat would work in more rest-games for LeBron and Bosh as the season progresses. Miami knows that their legend will be determined by titles rather than regular season victories and they will not fret about dropping a handful of regular season games in pursuit of that mission.
Nolan
. The Two-Time Champion Miami Heat. Does anybody really think the regular season means anything to these guys anymore? With a one or two seed all but locked up, the Heat front office needs to take a page out of the Spurs playbook and start resting their guys for the playoffs.  Keeping their players fresh is the number one priority in Miami in the regular season.  It looks to me as if the only team that can stop the Heat, is the Heat.
Look out for Part 2 of our New Year's Resolutions where we cover the Western Conference next week