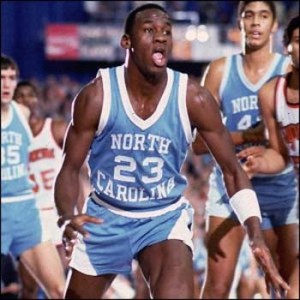 Unless you're not a sports fan,  this past week you haven't been able to avoid the hoopla surrounding Michael Jordan's milestone fiftieth birthday.
I have been very fortunate to have seen Michael play first hand, both in Chapel Hill, and in Chicago, where I moved to in 1986.  How many people can claim to have seen his first and last college games, as well as all six championship years? The last three I covered as a sports reporter.
Many media outlets are offering tributes. ESPN has collected fifty different moments from MJ's illustrious career. These are the famous shots and plays we all remember.  Winning his first NBA title.  His last NBA championship. MJ's barrage of three-pointers against Portland in the NBA Finals. The Slam Dunk contest in 1989. The shot over Craig Ehlo. And of course, hitting the game winning shot in UNC 1982 NCAA Championship game.
Every Carolina fan has that image indelibly etched in their mind, even if they weren't born when MJ hit that seventeen-footer at the Louisiana Superdome.
However none of those moments is my ultimate favorite.
It took place on November 30th, 1982, and is probably not in ESPN's honor roll.
On that night, the defending national champions welcomed Tulane and their star center John "Hot Rod" Williams to Carmichael Auditorium for their home opener.  The Tar Heels had began the season third in the polls, and squared off against the 19th ranked St. John's in the Hall of Fame game against Chris Mullin, and Jordan's future teammate Bill Wennington.  UNC lost that game, as well as the next one in St. Louis, against Missouri. The Tigers were led by Steve Stipanovich and Jon Sunvold, another pair of future NBA players.
Back in Chapel Hill, in a game that went back and forth, Williams made two free throws with just eight left to give Tulane a slim 53-51 lead.  Carolina was looking at the prospect of starting the season 0-3.  That had not occurred since 1928.
In a last ditch effort, UNC got the ball into Jordan's hands, but he was called for an offensive foul with four seconds to go. However, Michael stole the inbounds pass and heaved a desperation two-hand shot from nearly thirty feet away to tie the game.  The crowd held it's collective breath as the ball sailed through the air and into the hoop. This was before the implementation of the three-point shot, so he simply sent the contest into overtime.
Carolina would go on to win the game in three hard fought overtimes.  But to me, that moment was the epitome of Michael's will to win – hate to lose attitude that drove his competitive juices for his career.  He was probably furious at the charging call, and was determined to somehow get the ball back at any cost.  Jordan instinctively knew where to position himself, and he plucked the ball out of the air with the deftness of a pickpocket.
I have friends who have terrific recall of games, who scored, and what happened down the stretch, but I'm not one of those. My acquaintances will talk about old games like they were yesterday, and I'll just give them a blank stare.  However, the end of regulation that game has remained imprinted in my brain for thirty years.  We knew Michael was bound to join other Tar Heel standouts in the NBA, when he calmly drained "the shot" against Georgetown. When he refused to lose against Tulane, and pulled off the miracle shot, we knew he was going to be something very special.