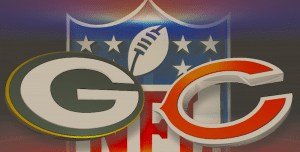 The 2018 Chicago Bears took a heart-breaking loss to Aaron Rodgers and the Green Bay Packers Sunday night, failing to capitalize on a 20-0 halftime advantage at Lambeau Field. After a day to breathe and be upset about the heart-crushing events that transpired at the hands of Rodgers, there are plenty of things to take away, both positive and negative.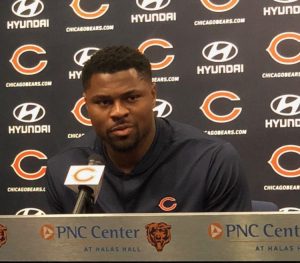 The best days are ahead for the defense
If you thought the Bears' defense looked good at times on Sunday Night Football, buckle up because that was an incomplete product. Even for someone as dominant as Khalil Mack, it is hard to expect him to be game ready with only a week of practice under his belt, particularly in a scheme as complex as Vic Fangio's. He had a sack, a forced fumble, an interception and a touchdown, all in a rip roaring first half. Then Mack's impact quieted down. Once he is fully immersed in Fangio's scheme, he will become even more dangerous. Additionally, Roquan Smith played only eight snaps, minimizing his potential impact. A player as talented as Smith will only elevate the overall defense. Beyond those two, however, the defense still played admirably, getting key contributions from Akiem Hicks and Roy Robertson-Harris, the ladder of whom has made a strong case to be a focal-point player. For a unit as young as they are, the arrow is pointing up, but finishing games will be one of the keys for the Bears to win.
The offense is still a work in progress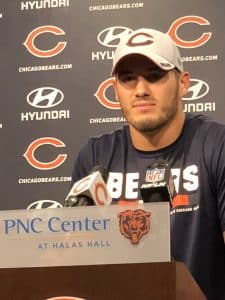 Like the defense, the Bears' offense came roaring out of the gates, keeping the Packers' defense on its toes with motion all over the field, exotic formations and varying degrees of deception. Mitch Trubisky looked comfortable, his receivers were getting open and the threat of Jordan Howard and Tarik Cohen in the backfield made it all the easier to move the ball. Then, the offense sputtered in the second half, only scoring six points and failing to sustain any drives until the end of the game.
Quarterbacks coach Dave Ragone offered insight on Trubisky's performance, saying, "Again, this is a process for him. There's things that don't show up on the box score that he did really well, that he didn't do last year." He then expanded on what those improvements were, citing Trubisky's mental improvements such as commanding the huddle, making his pre-snap reads and protections.
The aggression simply wasn't as present in the second half as it was in the first, and Nagy accepted some of that responsibility the day after, saying, "We ran two screens on back-to-back plays. I didn't like those calls." Lots of little things ultimately compiled into an offense that couldn't get going in the second half, but the first half certainly leaves positives to be taken away. Trubisky looked very sharp, going through his reads quickly and decisively and making plays happen with his feet. Jordan Howard was catching balls, Allen Robinson was making leaping catches and they carried themselves with a swagger that was noticeable. Execution is the name of the game moving forward; there were plenty of chances to extend the lead in the second half and put the nail in Green Bay's coffin. We caught a glimpse of just how dangerous this offense can be if they stay on schedule and they run the system the way it's supposed to run and if they can clean up the little things in the future, they could be something to watch.
Putting things into perspective
There is no doubt night's loss absolutely stung. The win was right there, and it literally slipped through Kyle Fuller's hands as Aaron Rodgers swiped it at the last minute, yet again. These are not meant to be excuses, but it's still important to remember a few things. The obvious is that Rodgers is a transcendent talent, the likes of which does not exist anywhere else in football. If he is in the game, the Packers will always have a chance, and the Bears are no exception to that.
Additionally, it's important to remember that this is an extremely young team with a rookie head coach. Nagy's script plays were perfect, as they should be given how much time he had to prepare them. Things get different once the game starts and you have to make decisions on the fly. As he learns to tweak his game plan, and to keep his foot on the gas pedal, as his former colleague Doug Pederson did, games like last night will be a thing of the past. The team is made up of many players in their mid-20s, most of whom haven't experienced playing with big a lead in the NFL. Sunday night was a big step forward, and despite the end result, the Bears surprised a lot of people. They should be in good position if they learn from their mistakes and apply them to executing in the future.