The Chicago Bears ended their two-game skid by defeating the New York Jets Sunday. Following an up-and-down offensive first half, the Bears pulled away in the second half to defeat the Jets 24-10. It wasn't always pretty, but this still-developing team did its job in defeating an inferior opponent.
No Mack, no problem
Football is a weird sport and Sunday was no exception. The Bears had struggled to stop offenses the previous two weeks, even with Khalil Mack. Conventional wisdom indicated that those problems could be exacerbated without their superstar pass-rusher. Despite that, the defense looked the best it's been since Arizona.
"We were disappointed in ourselves for getting ran on after starting off the season kicking people's butt," linebacker Aaron Lynch said post game. "Our whole vibe this week was we were just going to come out and be aggressive, hit people and if you hit-and-miss, you hit-and-miss but we were going to hit you."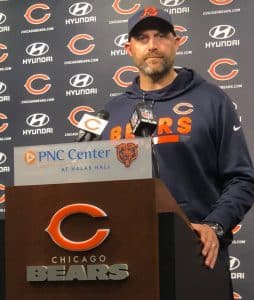 The Bears' defense made a rookie quarterback look like a rookie. Jets quarterback Sam Darnold never seemed fully in control and was unable to establish a rhythm, completing only 14 of 29 passes for 153 yards and a single touchdown.
A rookie quarterback's best friend can be the run game and the Bears took that away from the Jets away in a hurry. Isaiah Crowell, who ran for 219 yards against the Broncos in Week Five, never had anywhere to go and finished with 13 carries for a mere 25 yards. Akiem Hicks played like his normal self up the middle, and the defense clamped down on all phases. It was a much-needed performance for a defense that had been reeling in the previous weeks, and a fully healthy Mack will only elevate their play.
Second-half rhythm
The first half against the Jets felt eerily familiar, in that things never quite seemed to fully click for Mitch Trubisky and the Bears' offense. Save for a screen pass to Tarik Cohen that went for a 70-yard touchdown, the Jets' pressure prevented Trubisky from getting into a groove. Things came together in the second half, as Trubisky's footwork settled down, and he began hitting his receivers in stride and with anticipation. What threw him off in the first-half became exploitable in the second, and two second-half touchdowns and a field goal were the results.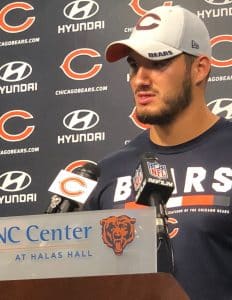 "You know, I think for all of us, you know, the mentality of just coming back out, we felt like we were just off a tick in the first half," coach Matt Nagy said. "The guys were focused and again I'm going to go back to if there's one key drive in that game, it was scoring a touchdown after they had their touchdown for the offense."
As has been the case recently, Trubisky used his legs to his advantage. He evaded and escaped pressure for positive gains and used his speed to move the chains. Nagy has emphasized that he is to be a quarterback first, but the threat of his legs open things up for the offense.
"He understands he's a passer first. He's not looking to run but if he needs to run, he can. I thought his balance was good. I thought he did a good job."
Teams have to respect his legs, and that respect opens things up in the run game because of the read-option possibility and in coverage when they have a linebacker spy him. The past few weeks have shown how virtuous Trubisky's mobility can be for this offense.
Trubisky's success may have to continue without starting guard Kyle Long, who went down late in the game with a foot injury.
"You always feel for the person," Nagy said Monday. "But as a coach, you got to keep rolling no matter what happens. And that's why I think Ryan (Pace) and our guys do such a good job."
Long not only provides excellent play, but he is a leader in the locker room. One veteran, Zach Miller, stood at the podium Monday to discuss the one-year mark since his leg injury in New Orleans.
A running game to lean on
While the Bears didn't have a 100-yard rusher on Sunday, they totaled over 179 yards on the ground between Trubisky, Jordan Howard, Tarik Cohen, and Anthony Miller. Most notable of that group is Howard, who hasn't been as productive this season as his previous two. He had 81 yards and a touchdown on 22 attempts and was exactly what the Bears needed him to be.
"So what I liked was he had a bunch of runs there where he kept chewing up a couple yards here or there, you weren't really feeling it. And then, boom, he popped it in four-minute-type mode, that 24-yard run," stated Nagy.
Though much of the rushing yards came from Trubisky's scrambles, Howard reminded everyone how valuable he can be when given the chance. Having a running back that can salt a game away and demoralize a defense with his power is a luxury many teams look for. The ground-and-pound identity so often associated with Chicago Bears football shifted to a pass-heavy, nuanced offense with the arrival of Nagy. In such a process, old-school backs like Howard can get lost in the shuffle while the shiny new toys of golden-armed quarterbacks and do-it-all running backs take their place; there will always be a role for Howard, and Sunday showed the importance of that role.
Follow on Twitter: @crbevins11 @radiomogul
Hear audio from Matt Nagy: