The 2018 Chicago Bears dominated the Detroit Lions on Sunday, walking away with a 34-22 victory and a 6-3 record. They were excellent on offense and dominated on defense, furthering their case as serious playoff contenders.
Mitch-a-palooza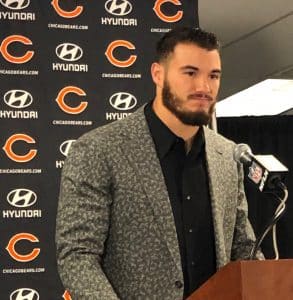 The story of the game, and with many games, was quarterback Mitch Trubisky, who reached a career-high with 355 passing yards. He also tacked on four touchdowns, three through the air and one on a well-timed quarterback draw. Trubisky was dialed in from the first series, completing all five of his passes on the Bears' tone-setting, 75-yard touchdown drive. Throughout the game, the offensive line gave him plenty of time to sit back, go through his progressions and deliver strikes to open receivers. He had struggled to hit wide open targets for much of the season, but he did so Sunday, showing the full potential of Matt Nagy's offense when it is executed.
"I just felt really comfortable out there, thought the O-line played fantastic today, and we got open on the outsides and it was just me doing my job, sitting back there and getting the ball to the playmakers," Trubisky said. "I put the ball where it needed to go and it's all a credit to my teammates and the work we put in in practice."
What really stood out wasn't so much the eye-popping numbers as it was how he achieved them. Trubisky was in complete command of the offense. He made checks at the line of scrimmage, he displayed comfort in the pocket, and he threw with timing. Trubisky also knew where to go with the ball before the snap. An example of this was on Allen Robinson's second touchdown.  Robinson, lined up in the slot, was one-on-one with the 5'9 Quandre Diggs, an immediate mismatch given Robinson's separation ability, combined with his 6'3, 209-pound frame. Detroit had no linebackers in the middle of the field, meaning any ball thrown in that vicinity had a chance at a big play. Trubisky identified this, and knew that such was an inevitability if Robinson was able to separate from Diggs on a slant route, which he did. Trubisky delivered the ball and Robinson was off to the races for a 26-yard touchdown. It is important to look for signs of growth when evaluating Trubisky, and this was a perfect example.
Allen Robinson's return
Despite missing two weeks with a groin injury, Allen Robinson reminded everyone why he was given a three-year, $42 million deal to come to Chicago. He caught six passes for 133 yards and two touchdowns, dominating any one-on-one matchup he was given.
"He made a huge impact," Trubisky said of Robinson. "Obviously, all the catches he made and the touchdown catches, but he is just so hard to cover one-on-one, he's another dynamic weapon for this offense and another guy to account for."
He added, "He just knows how to use his body and run great routes that create separation and when the ball's in the air it's 12's ball.
"Allen has a really good feel and a really good knack of beating press," coach Matt Nagy said. "And you saw a couple guys who got up and tried to jam him and press him. And he's been that way for, even in Jacksonville. That's one of the things that stood out to me."
Robinson's size already makes him a difficult matchup, but his route-running ability allows him to work from the slot and take advantage of undersized corners. Any single coverage look Trubisky got let him know that Robinson would be open quickly. His route-running savviness can flip the cornerback's hips to give him an opening on a slant, and he can turn a defender around on vertical routes. His strong hands allow him to haul in nearly anything in traffic, and he demonstrated what it looks like when all those tools are put together on Sunday.
Return of the Mack
In addition to Robinson, Mack had been inactive the past two weeks. After using that time to heal up, he came back in a big way against the Lions, totaling five tackles and two sacks. He came up huge to force a three-and-out when he came backside and stopped fullback Nick Bellore for no gain on a third-and-one. The Lions punted, and the Bears scored a touchdown on the ensuing drive.
Mack's impact, while often seen on the stat sheet, also went beyond just numbers on Sunday. He faced double teams and took away any vertical tight end threat, as the position was often used to chip Mack and open up in the flats.
"They did a lot of different things," Mack said. "They used a lot of chippers, they used a lot of different things, schematically, to kind of slow us down."
His two sacks will what stick out, but the way Mack impacts the game is always worthy of discussion. The team had six sacks of Stafford and Mack is a big reason for that number, directly and indirectly. That impact will have to continue next week against a porous Minnesota Vikings offensive line to put the Bears in a winning position.
Doink!
If there are any negatives from Sunday, it was kicker Cody Parkey's struggles. He hit the upright an astonishing four times, two extra points and two field goals.
"Everybody in this room has had a bad day," Nagy pointed out Monday. "He wasn't having a good day yesterday. There is a balance of being able to show trust to 'Hey get back out there, kick one and make it and get back on track.' And it didn't happen yesterday."
The plan moving forward is to roll with Parkey. Nagy quickly dismissed any notion of change after the game and cited Packers' kicker Mason Crosby as someone who bounced back a week after struggling.
"You go back to a few weeks ago when Mason Crosby missed a few, you know for Green Bay. And then next week he ended up kicking a game-winner."
The kicking position will be crucial if the Bears find themselves in the playoffs, and it could ultimately be the difference between the dance and another season short of the playoffs. There appears to be one vulnerability right now, but if Parkey can put it together, the 2018 Bears will be the most complete team the franchise has fielded in a while.
Follow on Twitter: @radiomogul @crbevins11
Hear audio from Matt Nagy, Mitch Trubisky and Khalil Mack