The Chicago Bears squared off with Tom Brady and the New England Patriots on Sunday. They fell 38-31 to perhaps the greatest quarterback to ever grace the NFL, and, as a young team, stand to gain a lot from what prevented victory.
How New England's offense attacked the Bears' defense
The Patriots neutralized the Bears' pass-rush by taking a page out of the Dolphins' playbook: Get the ball out quick. Brady lived by the short game on Sunday, throwing only five of his 25 completions for 10 yards are more. He averaged 2.56 seconds to throw per attempt, which was the seventh-quickest time in the league for Week 7.
The Patriots took advantage of primarily zone-coverage from the Bears, exploiting the soft spots that naturally come with zone. This allowed them to stay in rhythm and methodically move the ball downfield. It also forced the Bears to tackle in space, something they struggled with in Green Bay and Miami.
New England lives off mismatches, and they found one with James White and the Bears' outside linebackers. White, per status quo, was dangerous in the passing game, catching eight passes for 57 yards and two touchdowns. The chemistry between him and Brady is apparent, and his shiftiness makes him difficult for big-bodied linebackers to cover. New England knew this and attacked Leonard Floyd and Khalil Mack when they were tasked with covering White.
The Patriots' defensive gameplan
Earlier in the week, Patriots' coach Bill Belichick gave praise to Taylor Gabriel and the budding chemistry between him and Mitch Trubisky. So, it should not have been much of a surprise that a big part of their gameplan was to take Gabriel away. They did this by bracketing him and often shading a safety over to his side to neutralize the deep threat he brings, and it worked; Gabriel was limited to just three receptions for 26 yards.
"He did everything that we asked him to," coach Matt Nagy said of Gabriel.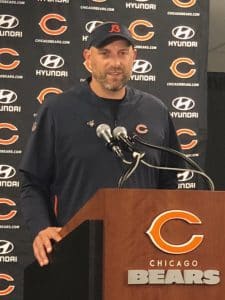 It's not unusual for the Patriots to take away one key aspect of an offense, but, as Trey Burton's big day will tell us, it tends to open things up for other players. For a team with so many weapons, like the Bears, it was important to nip the offense in the bud by disrupting its catalyst, Trubisky. If they didn't let him get comfortable, it wouldn't matter how many weapons he has.
The Patriots approached Trubisky similarly to how they approached Patrick Mahomes. A young quarterback who hasn't seen a lot and doesn't know what he doesn't know is vulnerable to a well-schemed defense with exotic looks. Knowing this, the Patriots ran a lot of tight man coverage with various assignments from their linebackers. They used Dont'a Hightower all over the field, whether it be dropping him into coverage from the A-gap or rushing him off the edge. Their approach was designed to keep a young quarterback uncomfortable.
"He played as I thought," Nagy said. "He played a game better than most people think he played. And so, there were some throws, now, that he missed in the later part of the game. See, early in the game, there's some throws that looked like he missed them, but he missed them because the guy wasn't open. And it's more of a throwaway."
"Mitchell also understands that he gets all the blame in those type of situations. Now, he'll also be the first to tell you, and so will I, that there was a few that he wishes he had back. And he's got to hit those. He knows that. We know that."
Though the Patriots' strategy was mostly successful against Mahomes and Trubisky, the two fared well in the stat book, each compiling over 300 yards and multiple touchdowns.
Run, Mith, Run!
New England brought a lot of pressure which threw Trubisky out of rhythm in the first half. The disguise blitzes and disguise coverages were executed well by the Patriots and kept Trubisky on edge in the pocket.
His mobility allowed him to escape and be effective with his feet, though. The Patriots' man-heavy coverage took their defensive backs with the Bears' receivers and away from the line of scrimmage, giving Trubisky ample room to scramble and make plays with his feet.
"That's a weapon right now for us, him using his legs, because there's coverages that defenses cannot run now because he's running the ball."
We've seen his athleticism slowly come on display over his young career, and Trubisky effectively used it when things weren't going great through the air. Development is not a linear process, and, in many ways, Sunday can be seen as a hiccup in that process. Having the means to still be effective when things aren't going right is a valuable tool to have. It bailed him out of stressful situations and is just one more trick Nagy can keep up his sleeve.