The 2018 Chicago Bears made a statement against the Los Angeles Rams. A game many picked to be another victory, the Bears' defense showed out and put a boot on a prolific Rams' offense.
Stopping the Rams' offense starts with Gurley
The modern NFL offense revolves purely around the quarterback. While the Rams have a top-10 quarterback in Jared Goff, running back Todd Gurley is the heartbeat of their offense. He is second in the league in carries and leads the NFL in rushing/receiving touchdowns with 19. He is a dangerous runner with 1,202 rushing yards entering Sunday, but is used well as a receiver, as evidenced by his 49 receptions for 504 yards. The Rams spend virtually every play in 11 personnel (One running back, one tight end and three wide receivers), which means he is constantly on the field and the threat of him is always imminent. They tend to get him going early so they can lean on play-action to open up throws for Goff.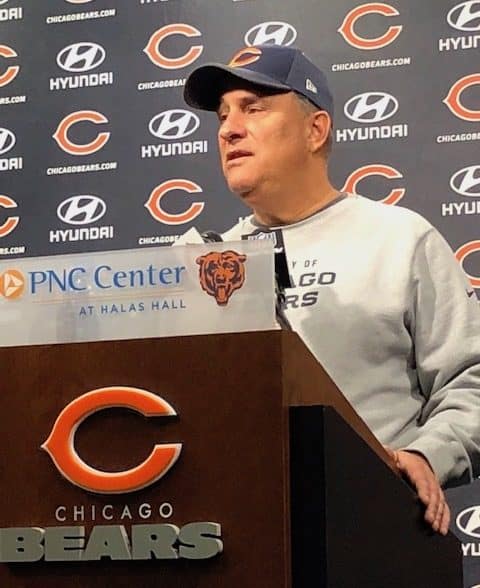 Coach Matt Nagy explained part of what makes Gurley so dangerous: "The one thing with Gurley is that a lot of these mid-zones and outside-zones, there's a cutback. He cuts back. And I thought we did a good job of containing that."
The Bears, however, took away Gurley completely. He had only 28 yards with his longest rush coming on a 12-yard burst in the fourth quarter. The interior, led by another great outing from Akiem Hicks and Eddie Goldman managed a consistent push all night, collapsing the pocket and for Goff and forcing a wall Gurley was unable to run through. Roquan Smith, who had an interception, flew around the field to make plays on the perimeter and collect seven total tackles. The Rams only handed Gurley the ball 11 times, and their need to pass the ball essentially nullified the purpose of play-action, which is how their offense reaches its peak effectiveness.
"I really think, based on some of the different things that they presented to us they had an outstanding game plan and really didn't have," Rams coach Sean McVay said. "I didn't really put us in the good spots based on what they were presenting to be able to get going."
Goff, without the easy throws and added time that play-action creates, struggled mightily, and the Bears' relentless pass-rush compounded that to force bad throws and four interceptions.
Eliminating Aaron Donald
The Bears and Rams feature two of the best player in football with Khalil Mack and Aaron Donald. Donald is truly a game-wrecker with his NFL-leading 16.5 sacks. He can dominate a run game working from the interior and destroys double teams. The expectation was that he would do at least something remarkable Sunday night, but he registered only two tackles and a quarterback hit.
"We had a plan for him," quarterback Mitch Trubisky said. "They got a good defense all the way around. We had a plan for Donald. The O-line did a great job keeping him in check all night."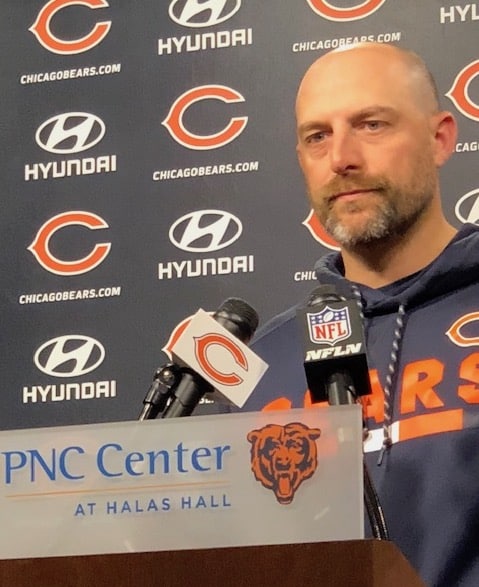 Rookie left guard James Daniels's performance against Donald cannot be overlooked. He worked with very good technique, keeping Donald's elite hand-fighting at bay, and rarely lost leverage against arguably the league's best player. Daniels performed so well that he often went one-on-one with Donald, an enormous vote of confidence for the rookie that has struggled at times.
"That was one of the biggest challenges that he is ever going to have, going against Aaron Donald," Nagy said. "Not all the time, he's not going against him every play but there's times when he's out there and Aaron just has so many great moves. But I thought his technique was really good last night. He never lunged too much, he stayed balanced."
The Bears often double-teamed Donald when he was lined up away from Daniels, blocking him with center Cody Whitehair and guard Bryan Witzmann.
Nagy's game plan involved getting the ball out quick with Donald on the field and running where he was not. He also used prioritized the run-pass-option, which he explained by saying, "They wanted to play a certain way last night and so we wanted to make sure we adjusted the right way and getting into some of those RPOs was what we felt, in that situation, was the best thing for us. And, you know, they were working." Jordan Howard and Tarik Cohen took advantage of the holes created by the offensive line, and it allowed the Bears to run the ball while their quarterback struggled.
A run game to lean on
The Bears' offensive identity switched to a pass-first approach with the arrival of Matt Nagy. Trubisky struggled against the Rams, throwing three interceptions, but Jordan Howard and Tarik Cohen produced enough on the ground to sustain offensive drives.
"The run game, the guys were executing it," Nagy explained. "We were getting some repeated plays in there which is always good… And then the guys were executing it.
"All things considered, the passing game wasn't really there, so, you know, we decided to go that route and it worked."
Jordan Howard had only his second 100-yard game of the season, and it came at a great time. He averaged 5.32 yards per carry on 19 attempts, running hard behind an offensive line that managed to contain both Ndamukong Suh and Aaron Donald.
Howard's 5'6 counterpart, Tarik Cohen had a similar impact, taking nine carries for 69 yards, a 7.67 yards per attempt mark. His work in the pass game (four receptions for 20 yards) and the threat that his history provides, kept the Rams' defense off-balance and opened things up for him as a runner.
Sunday night's game was to be a clash of mentalities; a battle between a team that has helped define modern football, and a team looking to be a part of that following. Ultimately, it was good old-fashioned, physical football that won out, and the Bears have put everyone on alert that elite offense isn't the only way to win in the NFL. They showed that their defense makes them not only a playoff contender, but a Super Bowl contender as well.
Follow on Twitter: @crbevins11 @radiomogul
Hear audio from Matt Nagy and Sean McVay: