The 2018 Chicago Bears exorcized their demons with a win over the Green Bay Packers on Sunday, giving them their first win over the Packers in five games and, more importantly, their first division win since 2010.
Bounce-back game from Trubisky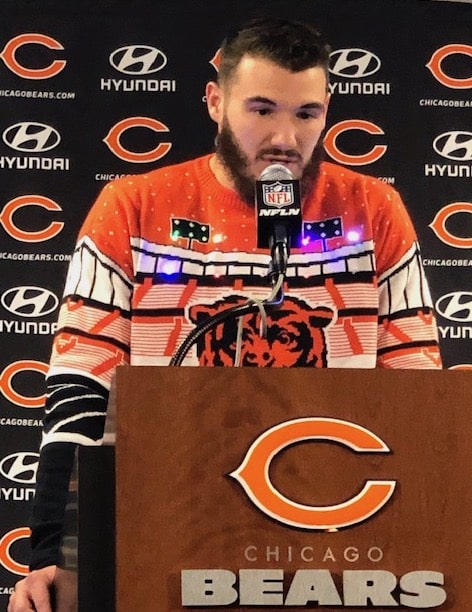 Bears quarterback Mitch Trubisky had arguably the worst game of his career against the Rams a week ago. A week of criticism ensued, further adding to the mounting pressure on Trubisky.
He responded with a big day when it was needed most, a day in which he was 20-for-28 with 235 yards and two touchdowns, posting a passer rating of 120.4. He tacked on an additional 16 yards on the ground. Trubisky played with a confidence that simply wasn't there against the Rams. The game never became too fast for him, and that was shown by him not breaking down in mechanics or decision-making. 
"I know what I can say about my teammates is that they always have my back no matter what," Trubisky said. "I think they see how hard I work and how much I care about this thing and how I'm hard on myself and I always continually want to do better.
Perhaps more noticeable than his confidence was Trubisky's performance was his poise. Green Bay's pass-rush got home on multiple occasions, but Trubisky used his feet to create space for himself and reset his body to deliver a throw. If he was forced to throw off-balance, he did so without putting the ball in harm's way. That mobility became useful on multiple occasions when he was him to extend a play with his feet to make a timely throw, or just take off for positive yards.
"Yesterday, Mitch made some great plays with his legs in the pocket, where it broke down, and then made the pass," Nagy said on Monday. "Or made a scramble on a third-and-long there in the fourth quarter."
It may not be represented by jaw-dropping deep throws, but Mitch Trubisky played a very good game Sunday. It was particularly encouraging to see him bounce back from his struggles against the Rams, and he did so in one of the biggest games of his career. It is a performance he can build off of, and the arrow is back to trending up for Trubisky.
Rushing Rodgers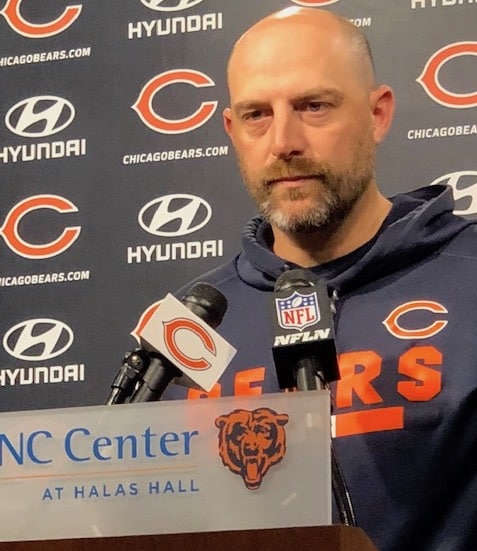 Aaron Rodgers has made a habit of tormenting the Bears for a while now. And at times on Sunday, the nightmares or Rodgers-magic crept back into the minds of Bears fans. Alas, the Bears' defense kept the foot on the gas all game, and Rodgers was unable to do what he does so often.
"They all battled. Really proud of them," Rodgers said of his offensive line. "Good defense. Really good front. Crowd was loud. They had a nice plan for us."
Aaron Rodgers is particularly dangerous when forced to improvise. His instincts and sometimes freaky chemistry with his receivers means coverage integrity is a must. The Bears' secondary knew this and, instead of losing their focus with eyes on Rodgers, stuck with their receivers through the whole play.
Save for a couple quick throws and screens, the Bears prevented Rodgers from setting into any sort of rhythm and held him to a completion percentage of less than 60%. Rodgers was under duress all day, falling victim to a Bears pass rush that totaled five sacks.
Khalil Mack was his typical, dominant self, sacking Rodgers two and a half times, while his counterpart, Leonard Floyd, had two of his own. Roquan Smith flew all over the field to lead the team in tackles with 10, plus, he tipped the pass that Eddie Jackson intercepted. It just so happened to be Rodgers's first pick in over 400 pass attempts.
"Another lesson," Nagy said of the timely interception. "Sometimes it's a fortuitous bounce that you get. Sometimes it's just you didn't make a play. I talked to our guys last night in regards to those situations. We talked about them and how when you get an opportunity in this game, you got to make it and you cannot look back and have any regrets at all.
Lessons learned
Although it was the first week of the year, the Bears' second-half collapse was still fresh on everyone's minds. Rodgers tied the game early in the second half and the, "Here we go again" feeling began to sink in.
"I was even holding my breath on the onside kick just because I've seen it so much," cornerback Prince Amukamara said. "Even on the Hail Mary before the half, you've just seen it so many times. [Aaron Rodgers] is so accurate and precise, when he throws the ball he is going to give the receiver a chance. We're just glad that we finished. I think the pressure that Vic [Fangio] was sending in different looks made a difference in the game."
These Bears are different than the ones from Week one, however, and they responded swiftly, scoring two possessions later. The defense stuck to what worked instead of reverting to soft coverage like they did before. The offense didn't become a shell and run conservative play-calls; instead, they let Trubisky do what works best for him: Easy throws that move the chains, misdirection and run-pass-options.
The Bears are at a place they haven't been since 2010. A place people hoped they would be in a couple years. Their defense is good enough to win the Super Bowl, and if Trubisky plays sound, mistake-free football like yesterday, there is no reason to think they can't play in Atlanta this February.
Follow on Twitter: @crbevins 11 @radiomogul
Hear audio from Matt Nagy: