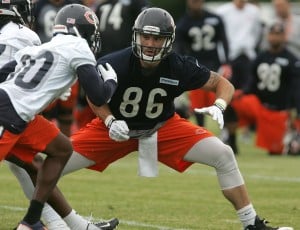 Martellus who? That is what fans were asking on Friday night when the Bears kicked off their 2014 preseason schedule at Soldier Field against the Philadelphia Eagles.
Tight End Zach Miller made his debut in a Chicago Bears jersey in spectacular fashion, catching a 10-yard touchdown pass from Jay Cutler with 3:18 to play in the first quarter. Miller, who was filling in for the suspended Bennet, would make the most of his opportunity as he split time at the tight end position with Dante Rosario throughout the first half. The five year pro wasnt finished after his first touchdown grab either. Miller would also catch a 12-yard touchdown pass from backup quarterback Jordan Palmer in the second quarter before finishing his night with six grabs for 68 yards and two touchdowns.
"It felt good to go out there and make some plays," Miller said after the game. "I am just trying to take it one play at a time and improve."
After sitting out the last two seasons, Miller looked hungry for a chance to be back in the league. He signed with the Bears this offseason, after spending all of 2012 on the injured reserve, and sitting out the 2013 season after being waived by the Tampa Bay Buccaneers. He has 45 career receptions and four touchdowns all while playing in Jacksonville from 2009-2012. He also knows it was only one preseason game and he will have to improve his blocking to make the team.
"That is something I have to improve on," Miller added. "We will cut up the tape and see what I can do to improve."
It was not only Miller who impressed the home crowd Friday night, Jay Cutler looked solid as well, completing 9 of 13 passes for 85 yards and a touchdown. Brandon Marshall had five receptions on six targets for 31 yards, and Alshon Jeffery made a tough catch for 16 yards that received an ovation from the crowd before the starters would exit for the remainder of the game. Cutler spoke after the game about the Bears' performance in the first audition before the season opener against the Buffalo Bills.
"There were some mistakes out there," Cutler said, "some things to clean up, but the guys were really efficent getting in and out of the huddle, getting to our checks. The guys did well."
While the passing game was on point for the Bears, the rushing attack struggled to get anything going against the Eagles. Matt Forte would carry the ball three times for negative five yards. Rookie KaDeem Carey finally got a chance to show what he could do after spending most of training camp on the sideline or the ground. He would carry the ball 10 times for only 23 yards, in a disappointing debut for the former Arizona Wildcat. Carey will have to improve as he is currently No.3 on the depth chart behind Forte and Shaun Draughn.
In the battle to backup Jay Cutler, quarterbacks Jordan Palmer and Jimmy Clausen played the 2nd and 3rd quarters respectively, with Clausen displaying the early advantage once again much like in training camp. Palmer would connect with Miller on a 12-yard touchdown, but he also threw a ugly interception to Eagles safety Nate Allen, and was nearly picked on another attempt. Clausen on the other hand dazzled in his chance at redemption. After the disaster that was his stay in Carolina, the Bears gave Clausen a chance to win the backup job this summer with Palmer being unproven. Clausen completed 7-13 passes for 150 yards and two touchdowns, one on a 73-yard toss to speedy-wide-receiver Chris Williams.
"I just tried to look the safety off and give him a chance to score on that," Clausen said. "He ran underneath it and made a great play."
Receiver, Michael Spurlock, would catch the other touchdown from Clausen on a 22-yard touchdown before giving up the offense to rookie David Fales. Head coach Marc Trestman had nothing but encouraging words for all of his quarterbacks after the game.
"I thought all the quarterbacks at some point had some adversity along the way," Trestman said. "They were all able to come back and make it a positive note in some fashion."
The Bears will return to training camp in Bourbonnais with practice on Sunday at 3:00 pm. No word yet if Martellus Bennet will be back with the team by then. If not, at least they have "Miller Time", (joking of course, or am I?).
While Jordan Palmer may have seen second team reps on Friday night, and KaDeem Carey saw most of the carries. Expect everyone to get chances to impress in the preseason. Click below to hear offensive coordinator Aaron Kromer explain how the preseason depth chart can change.
Podcast: Play in new window | Download